Mid Autumn Festival – a time for family gatherings, mooncakes, full moon, lanterns, fire dragon dance and more!
Here are some Cantonese teaching activities related to Mid-Autumn Festival, so that you can seize the opportunity to introduce your child to more Cantonese language and culture.
1. Mid-Autumn Festival Songs and Rhymes
八月十五是中秋
Watch the video and download our free printable of the  lyrics of Mid-Autumn Festival Song 八月十五是中秋.
中秋佳節 by 嘉芙姐姐 Ka Foo Sister
An original composition
Also check out these two posts:
For more Mid-Autumn Festival Cantonese Songs and Rhymes, please check  out this YouTube playlist.
2. Mid-Autumn Festival 中秋節 Cantonese Stories
【5個中秋節小知識】5 things about Mid-Autumn Festival in Cantonese
– An awesome and educational overview of the Mid-Autumn Festival.
中秋節的故事/由來 (嫦娥奔月) + 至潮燈籠製作 廣東話/粵語 科學小達人
A cute channel by two BFF, who act out the story, and also show you how to make glow in the dark lanterns.
中秋節由來話你知 The origins of Mid-Autumn Festival
Books
This is one of the first Mid-Autumn Festival books in Chinese that I have. I really like this series, as it focuses on Hong Kong customs. And I was really pleased to find a Youtube video of it being read!
Mid-Autumn Festival Pop Up book
Cartoon/ Animations
「智多多之香港是我家」德育卡通 – 快樂的中秋節
【看故事★學中文】小魚字游樂 :中秋節 | 草日動畫中文故事
Meizhou Chinese Resources- Stories with Cantonese audio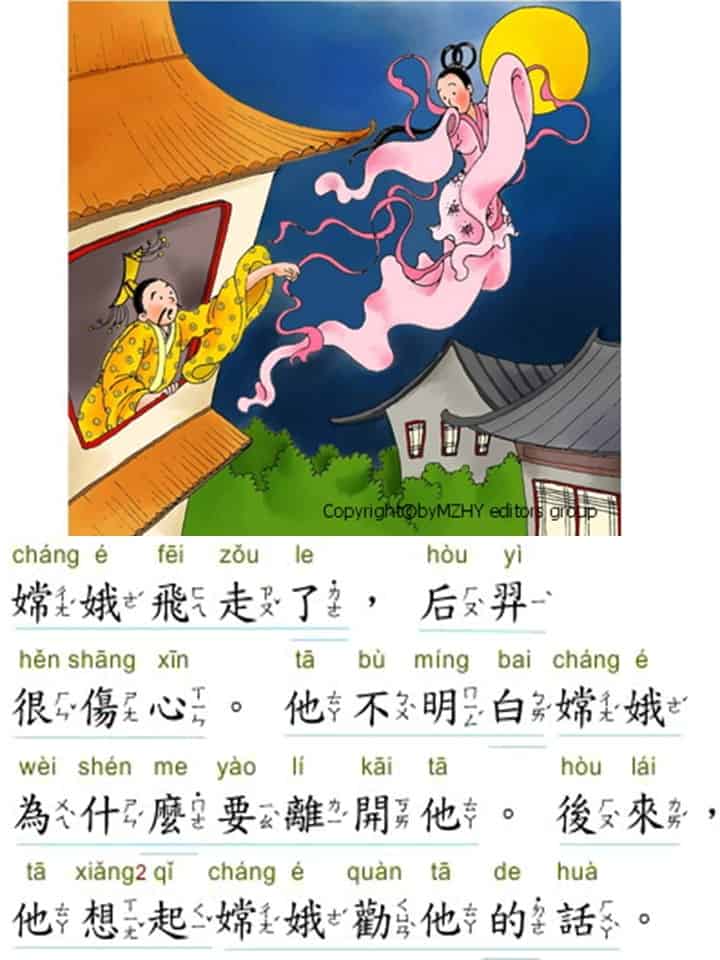 Of the many Meizhou stories, I found two about Mid-Autumn Festival (with audio recordings):
These stories are from Level 2 of Meizhou textbooks. Please note the PDFs are in black and white, the PowerPoint files are in colour.
If you have an advanced reader, you can also check out these stories/ passages by Huayu World from Taiwan. The passages are in Traditional Chinese. You can read on screen, or download the PDFs.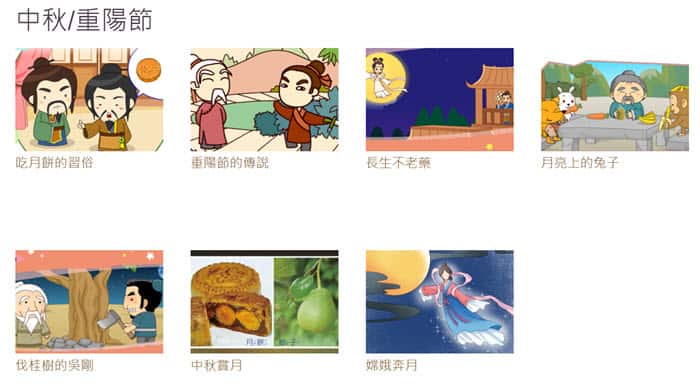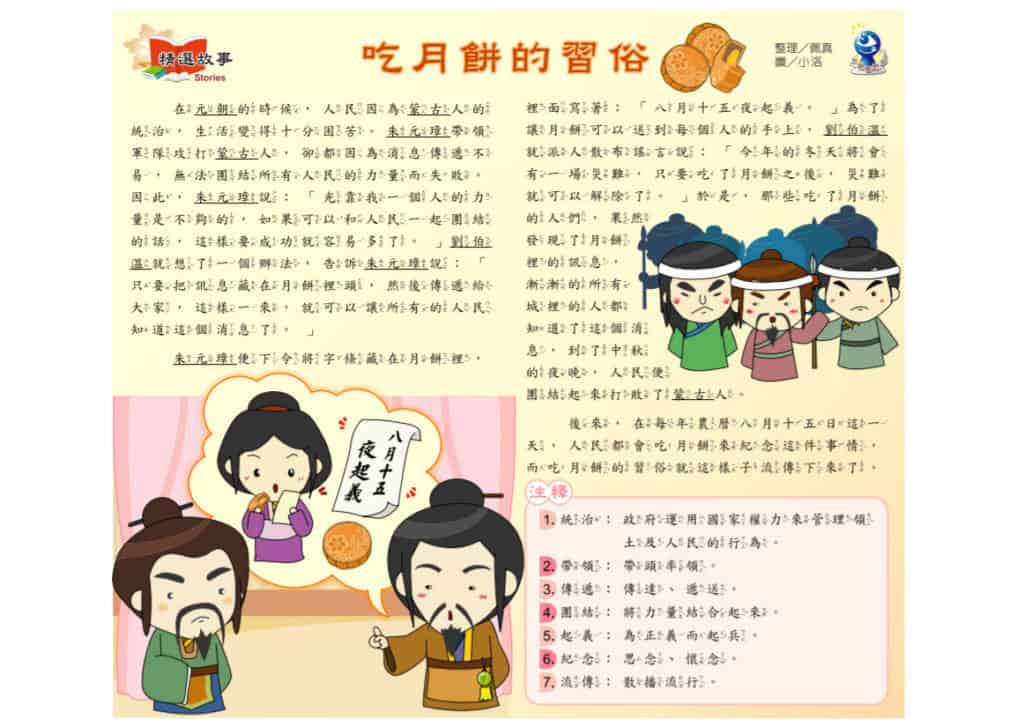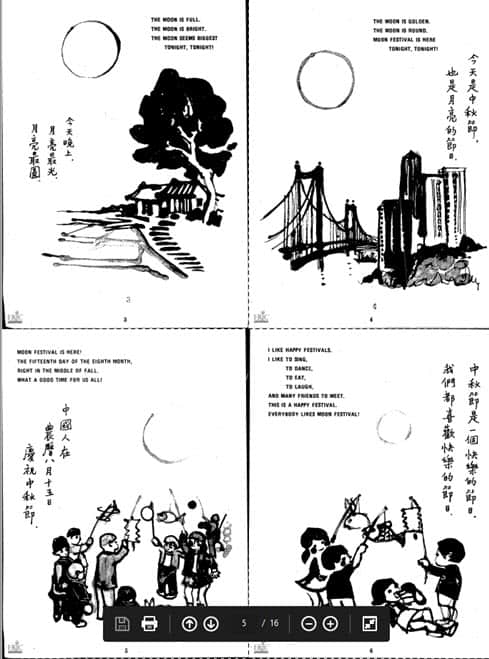 This reader is one of a series of elementary readers written in Traditional Chinese  and English for the Cantonese Chinese in America in the 1970s. The series was designed to familiarize children with the traditional major Chinese festivals celebrated by the Cantonese Chinese in America. This booklet describes the celebration of the harvest-time holiday called the Moon Festival.
Looks cute to be used as a colouring book for younger children. The Chinese is handwritten.
For more Mid-Autumn Festival Cantonese Stories, please check  out this YouTube playlist.
3. Making Mooncakes
Check out this Cantonese video by Michigan Cantonese Storytime – an easy way to learn to make mooncakes with your kids.
Making traditional style mooncakes – there are many videos on making snowy skin mooncakes, but for traditional mooncakes, there are not many videos in Cantonese.
For more Cantonese videos on making mooncakes, please check  out this YouTube playlist.. There are all kinds of flavours that you can make including blueberry cheese snowy mooncake, sweet potato mooncakes, green tea mooncakes and more. Custard mooncake seems to be very popular too.
4. Cantonese Vocabulary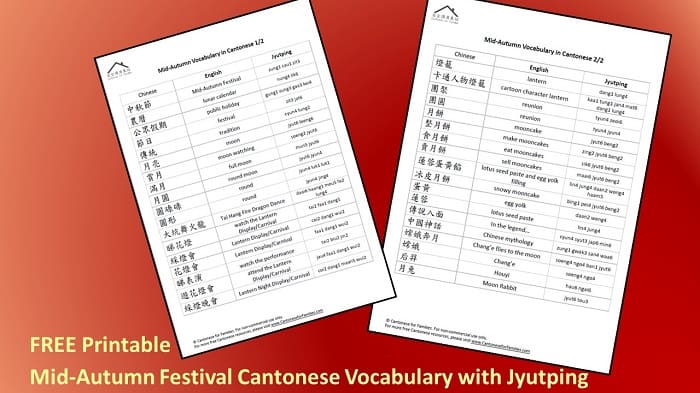 I specially created this vocabulary list for you. How many of these phrases do you know? 中秋節, 賞月, 卡通人物燈籠, 食月餅 are just a few. Download the pager Printable of Mid-Autumn Festival Vocabulary in Cantonese today.
5. Worksheets, games and other resources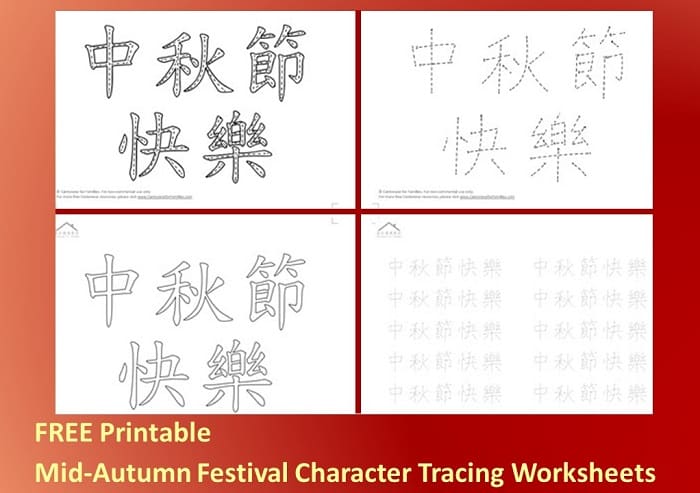 Learn the stroke order of the characters 中秋節快樂, and practice writing them with these Mid Autumn Festival worksheets. Or make little signs for decorations.  Available for free download.
Flashcards come with cute illustrations, Jyutping and English translation. You can choose to print them in A4 size, or in multiples e.g. 2/ 4/ 6/ 9 a page. Also there is audio on the website. And colouring sheets with vocabulary on them.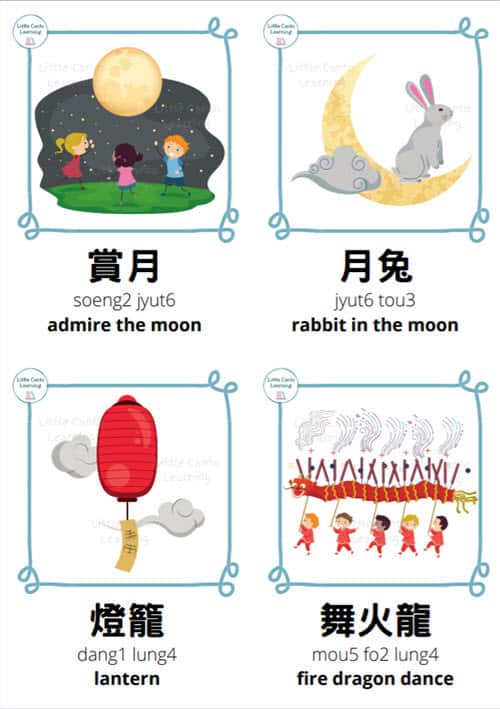 A poem by Sagebooks, with a printable containing the  3 learning activities – 高聲朗讀 Read aloud, 重組句子 Sentence Re-construction and 詩句/圖片配對 Verse and image matching.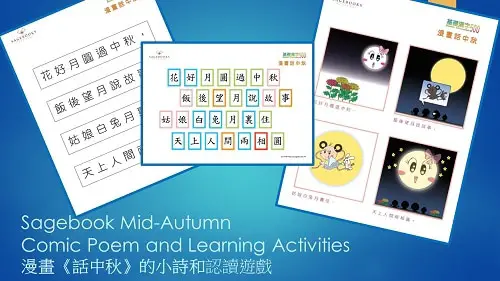 These Mid-Autumn Festival worksheets come with Jyutping and cute graphics, and can be downloaded form their Facebook page.
This month's free activity pack is the Moon Festival pack.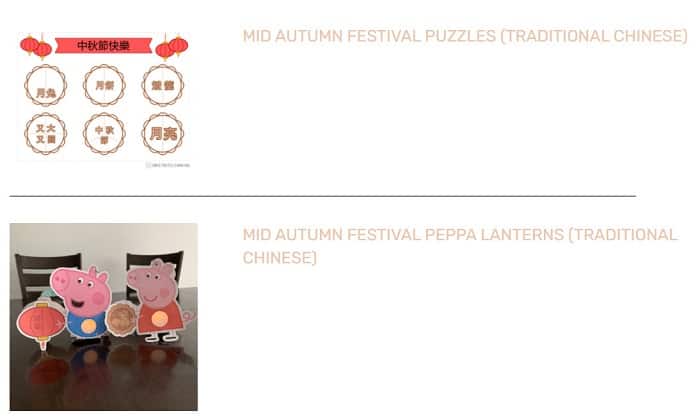 I love this website that has such thoughtful activities for children. If you have a surf around, there are also free printable readers that have been carefully written based on various educational principles.
Infographic by vividchinese. Scroll to bottom of page for traditional Chinese. Comes with Mandarin pinyin, but not Cantonese romanisation.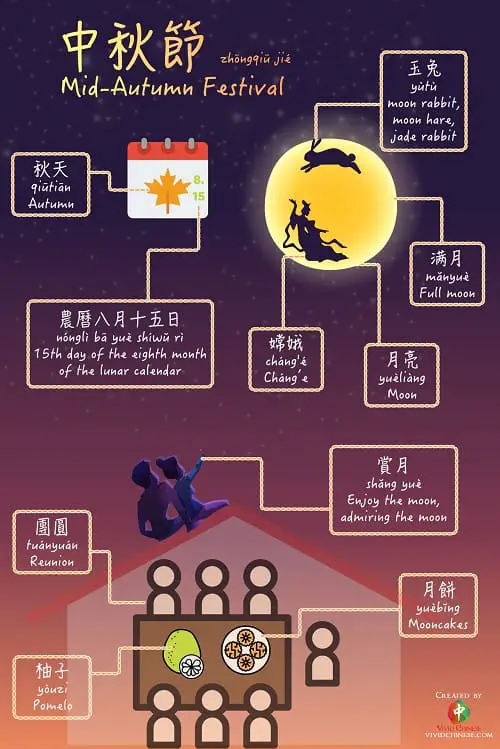 Four designs for free, these have cute graphics and simple vocabulary in Traditional Chinese characters. You need a Teachers Pay Teachers account to download the free PDF files.
This 13 pager is a sampler, and includes letter tracing, phase search, a sample page from the reader, as well as information about the festival. You need a Teachers Pay Teachers account to download this free PDF file.
6. Craft
Most mid-autumn Festival crafts involve making lanterns.
A lantern (with template) from Little Bean Cantonese
The ones from Hing Hing Sone Sone Cantonese Learning include both video and templates to download.
'
Easy lantern by 小熊豆豆一家
A very cool lantern tutorial by Squeaky Dumplings. Please note this is mostly in English. (Just click Close on the error message above, and it will play – not sure how to remove the message, sorry!)
Check out this YouTube playlist for more craft  – lots of different lanterns to choose from.
7. Mid-Autumn Festival in Hong Kong
These are some of the popular ways that Mid-Autumn Festival is celebrated in Hong Kong
Eating Mooncakes 食月餅
Lantern Displays & Carnivals 花燈會
Read more about Mid-Autumn Festival in Hong Kong: (2020 celebration is scaled down for obvious reasons):
For more videos on Mid-Autumn Festival customs and traditions in Hong Kong please check  out this YouTube playlist.
All the videos are also compiled in  Mid-Autumn Festival Collection playlist with songs, stories, and TVB clips and more. Lots of interesting information about mooncakes, Fire Dragon Dance, other customs, DIY crafts. All videos are in Cantonese and/or English.
8. Mid- Autumn Cantonese Fun Facts – (Articles in Chinese)
中秋粵語妙趣多1:八月十五點解指屁股?Why does the 15th day of the 8th month have the meaning of buttocks?
中秋粵語妙趣多2:「番鬼佬月餅」歇後語?話人「豆泥」點解?Interesting Cantonese sayings
Free Printables:
Once again, here are our free printables for download:
You might also enjoy reading:
Wishing you a happy Mid-Autumn Festival! 祝你中秋節快樂!