Many second and third generation Chinese in Western countries, who may not be fluent in reading Chinese characters,  often struggle with finding educational resources. What they are looking for are resources written in Colloquial Cantonese and with a pronunciation guide.
Below are a list of resources specially for children, found after hours of searching the internet. These sites provide basic resources for toddlers and pre-schoolers, and are suitable for  use at home or in playgroups. They are also suitable for adults looking to expand their vocabulary.
This is one of the earliest sites that offer free Colloquial Cantonese kids resources that I know of, that are still free. CantonSponge offers ideas and materials on how to introduce Cantonese language to your little ones in a fun way. Resources include song sheets, vocabulary posters, and flashcards, with cute graphics. It was started by a mum in the Netherlands who wanted to teach her husband and kids Cantonese. In August 2018,due to the growing demands of family and work, she decided to stop with CantonSponge. My advice is to download the resources quickly as materials may be removed due to the limited storage of a free Wix site.
Michigan Cantonese Storytime (MCS) offers free Cantonese storytime, nursery rhymes etc for young kids. Their Facebook page offers lots of resources, and if you look under the Photo tabs, they have lots of themed Chinese writing practice sheets with Colloquial Cantonese vocabulary. You can also crop them to make flashcards. There are also bingo sheets, flashcards, games and more.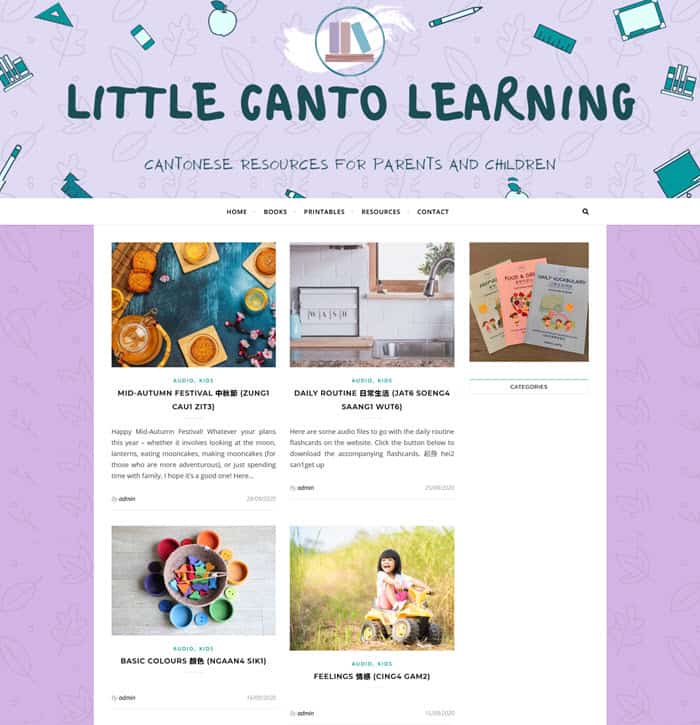 Loving this website Little Canto Learning that always seems to have new things every time I look. It is very pretty and soothing to look at, and also has lots of free printables, audio, and other information. Some of the contents include:
flashcards (numbers, parts of the body, daily routine, autumn, feelings)
colouring sheets
phrases for parents (encouragement, discipline)
and more.
The blogger has also written a series of books (both print and kindle ebook) for sale, reasonably priced, with 20% of proceeds going to charity.
Cantonese Fun is a Cantonese-immersion playgroup in Seattle. On their site, they have some resources, of which my favorites are the vocabulary cards for animals and vehicles. The vocabulary cards are in Colloquial Cantonese and uses realistic images.
A language school in Adelaide Australia has started developing beautiful flashcards/ posters and you can request for a download (limited time) by leaving a message ( in English or Chinese) on the post. The post are written in Chinese, but you can find use the Facebook translator to understand the gist of the post if you need to). So far, the series includes numbers, shapes, fruits and vegetables, food and drinks, and simple phrases. I really like my collection from this page, and am looking forward to more resources.
UK based online seller of traditional Chinese books for children, Cubby Hiole Books posts flashcards on their Facebook timeline to help parents recognise keywords that are very common in children's books. Flashcards contain both characters used colloquially in Cantonese, and characters seen in books. Also contains jyutping to help those who need it.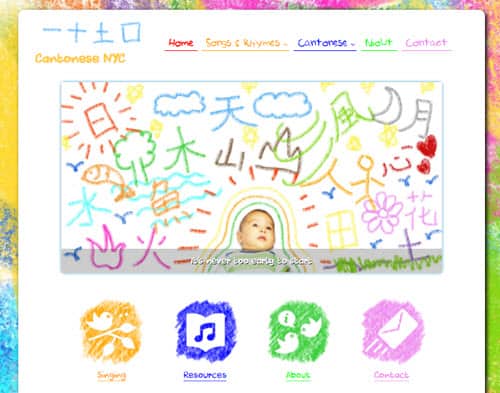 This page was created to gather Cantonese speaking families in the New York City to meet weekly for children rhymes and storytime, with focus on 0-2 years old. The website has some song lyrics (with JyutPing) available for download, and as well as a  useful lists of resources for teaching Cantonese. Some of the lyrics were rewritten to be more relatable to current life.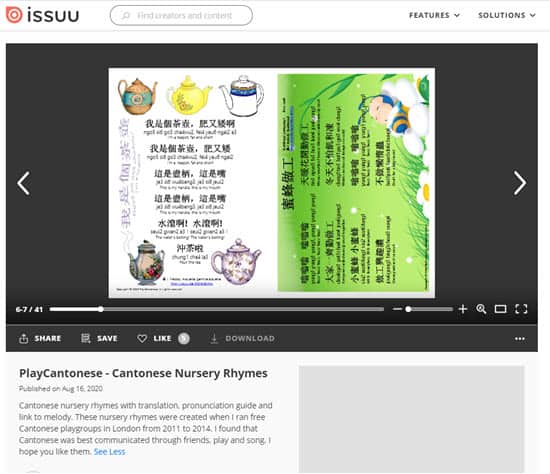 Cantonese nursery rhymes with translation, pronunciation guide and link to melody. These nursery rhymes were created when PlayCantonese free playgroups started, and the founder has generously shared this 41 page booklet for free on Issuu.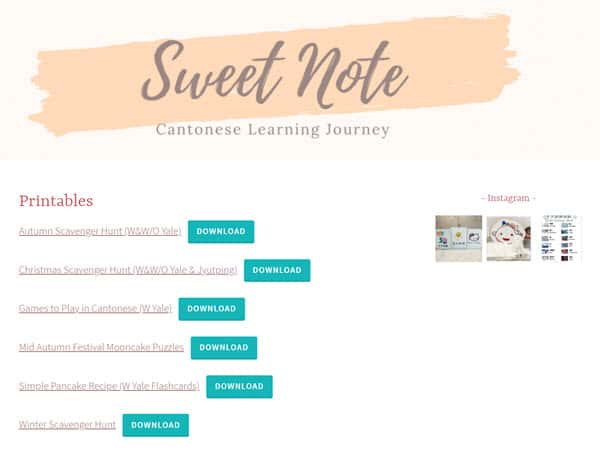 This new blogpost really has the sweetest printables. Blogger Pauline is more active on Instagram, but houses her printables on her webpage to facilitate easy download. My favourite is the Games to Play In Cantonese.
About these resources
These type of resources are specifically developed for the overseas Chinese, as locals in Hong Kong do not use any romanization or pronunciation guide, and do not teach their children to read or write in Colloquial Cantonese. Hence these resources are limited, as they are mostly produced by parents when their child is young. I have chosen to focus on sharing these, as I realised that this is what many of the overseas Chinese, who are heritage but not necessarily fluent, are looking for. Those who are very fluent in reading and writing have alot more resources at their disposal, and are more adept at looking for Chinese materials.
I will be sharing any printables that I develop for my kiddo too.  Please check back for new items.
Other Free Online Cantonese Resources for Kids:
Anything I Missed?
Looking for Colloquial Cantonese resources for kids online for is akin to looking for buried treasure, and some of these I have discovered by accident, and others by lots of research. I'm hoping there's more up there. If you have any resources that you know of, please drop a comment on this post and let me know, so that I can update this post with more resources and more people can enjoy them.