As a advocate of Colloquial Cantonese resources, as well as of Jyutping, I am delighted to see many more Colloquial Cantonese books as well as more Chinese books with Jyutping being published since my last post. There are even board books available now, an answer to many parents' requests. It is clearly time for a round-up of the new arrivals. Here are the books I am reviewing:
Colloquial Cantonese Books
Chinese books with Jyutping
1) Colloquial Cantonese books
by Deborah Lau |  Catlike Studio
Available in eBook,  paperback and hardback formats.
Written in Cantonese with Jyutping and English.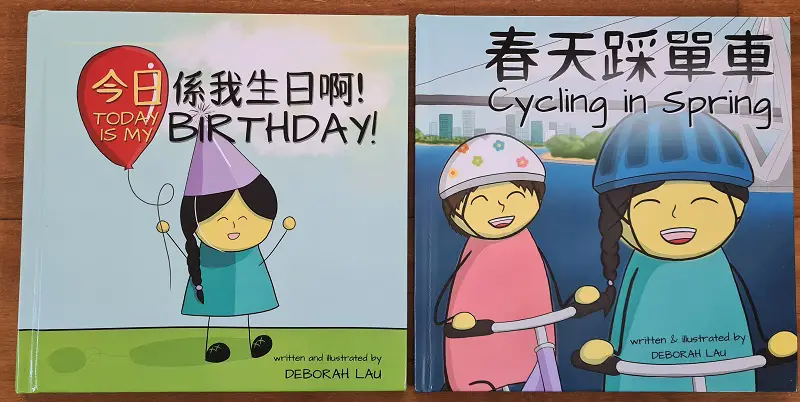 Deborah Lau has written yet another gorgeous Cantonese/English bilingual rhyming story book, Cycling in Spring 春天踩單車, following the success of her debut book, Today is my Birthday! 今日係我生日啊!(review here). The protagonist of the first book, a little girl, is also the voice of this book, and we were delighted when we opened up the book to read the first lines "我係一個活潑小女孩,我鍾意嘅奇妙世界。" , which were the same ones in the earlier book. The girl, along with her family, takes us on an adventure, and with her keen powers of observation, introducing the many facets of cycling. I learnt a few facts and some vocabulary that I did not know in either English or Cantonese. (Note: Though there is no need to read the previous book to enjoy this one.)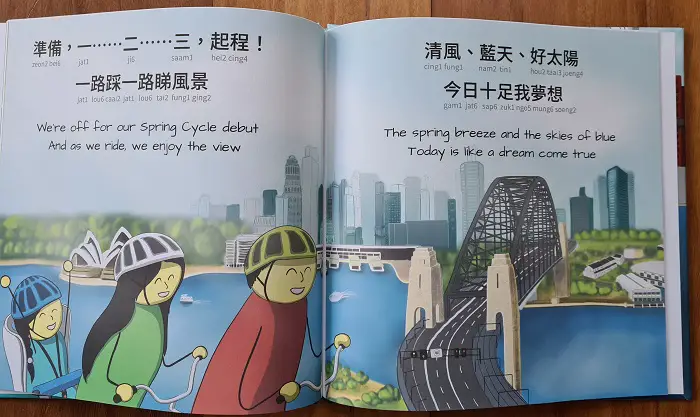 I also love that this book is based in my home country Australia, and my child was excited to see the charmingly illustrated iconic Sydney Harbour bridge and Opera House and other landmarks. And I am still amazed at how the author made it rhyme in both languages.
The book comes with a YouTube read along.
(Disclaimer: I was gifted a hardcover edition of the books by the author.)
by Farina Leong | Little Canto Learning
Available in eBook,  paperback and hardback formats.
Written in Cantonese with Jyutping and English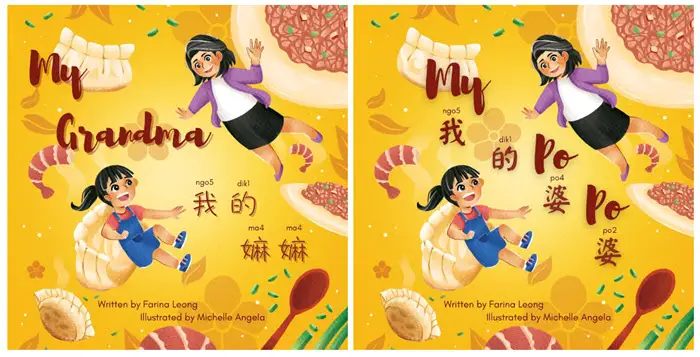 Fans of Farina Leong will be excited to hear that she has a new Cantonese storybook. I loved her Cantonese vocabulary series and her first storybook My Troublesome Little Sister 我的麻煩妹妹
My Grandma is a heart-warming story about the protagonist's grandmother. The story captures the beautiful bond between the girl and her grandmother with the descriptions of the quality time they spend together. The author also weaves an empowering message of the importance of trying and never giving up.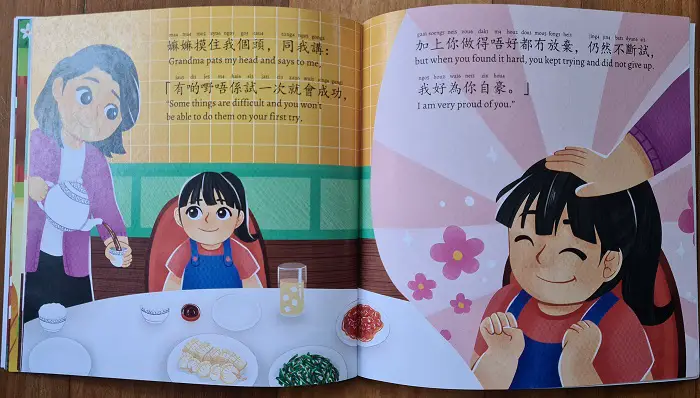 The eagle-eyed may have noticed that there are actually two different versions of this book, the difference being visible in the Chinese title 我的嫲嫲 and 我的婆婆. The interesting thing about this is that they both refer to the protagonist's paternal grandmother. You might be surprised to hear that 婆婆 is used here  to refer to the paternal grandmother, since 婆婆  in Cantonese usually refers to the maternal grandmother. The reason behind this unique title is that author is of Hakka heritage, and she pays homage to her grandmother, and her family heritage, where the paternal grandmother is referred to as 婆婆 or 阿婆. I was debating which to buy. 我的婆婆 would provide an opportunity for me to expose my child to complexity and the diversity of the Chinese identity and language. I ended up purchasing the paperback edition of 我的嫲嫲  because it was the death anniversary of my mother-in-law, and I wanted to read a book specifically about 嫲嫲. But I would encourage anyone whose child is old enough to consider 我的婆婆.
There is a QR code at the back of the book that you can scan to listen to the audiobook.
by Serena Y. Li | Duck Duck Books
Available as Board Books
Written in Cantonese with Jyutping and English
This lovely set of board books, the brainchild of Serena Y. Li, are now available in Colloquial Cantonese. The books, targeted at the early years ages 0-5, have themes around emotional intelligence and early social skills, and seek to spark conversations about diversity, equity, and inclusion between parents and young children.
There are three titles in the series, and each board book measures 16.5 cm x 16.5 cm (or 6.5″ x 6.5″) and consists of 18 pages. I reviewed the digital preview copies provided by the author. (I have not seen the actual books).
I Am Me!: 我就係我自己!This is my favourite of the three. It uses using photos of real children, and the joy and energy radiating from the children are simply infectious, as they celebrate the differences, while helping children to be accepting of them. Using photographs, which are by nature of high iconicity, the books help children to make real life connections to different cultures, race, gender, and emotions.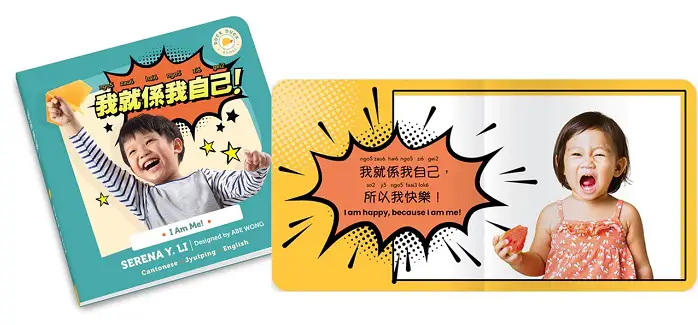 All Puppies Are Good Puppies: 所有嘅狗仔都係乖狗仔 – uses adorable photos of puppies to demonstrate how we diversity makes each one of us special. You can see the puppies, whether big small, tall short, different colors, with different types of fur, are all equally lovable.
I Love You More: 我最愛嘅人就係你 is a love letter from a parent to a child. A moving read about the unconditional parental love, expressed in the five languages of love, this book contains a powerful affirming message for children.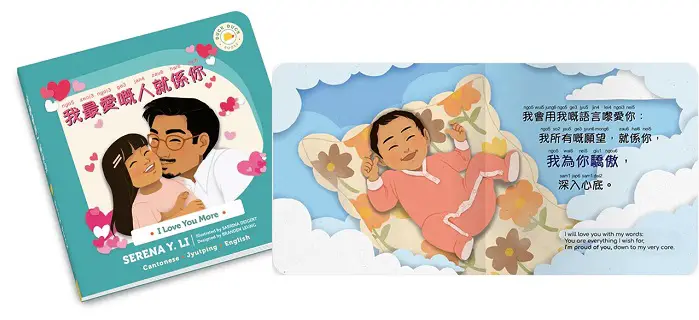 By Neesie Sharpe | Coprosma Books
Available as board books
Written in English with Cantonese phrases accompanied by Yale romanisation


I just came across these two gorgeous board books by New Zealand Chinese author and illustrator Nessie Sharpe née Chan. I'm always excited to see a new series, and from this side of the globe. Both books are centred around food, which makes perfect sense as the author is also the creator of a food blog. They were actually published in 2020 at the start of the NZ lockdown.
I have not seen a physical copy of the books, but I watched the YouTube readings of them and found them delightful, with the rhyming English prose, and the injection of Cantonese vocabulary throughout the books. The Cantonese phrases are accompanied by Yale romanisation, so it does not matter if you cannot read Chinese characters. The board books are a great way to introduce Chinese culture and the Cantonese language to little ones. Bang Bang Noodles also includes a recipe that you can try out at home with the kids.
Mina Learns Chinese
by Katrina Liu
Available in ebook and Paperback formats.
Written in Chinese with Jyutping and English
Further to the publication of the Cantonese edition of Mina Goes to the Beach 米娜去沙灘 , Katrina Liu has published another two Cantonese editions of her bilingual books:


I had reviewed her first Cantonese book Mina Goes to the Beach 米娜去沙灘, and had really enjoyed it. From what I could see of these books on Amazon preview, these books look to be equally engaging. Also, Cantonese Mommy, Dr. Lee Dennig and Dr Chaak Ming Lau had volunteered their time to translate and proof read it, so you can be assured of a good translation.
(Pictures extracted from Amazon preview.)
Chinese books with Jyutping
by Lacey Benard & Lulu Cheng | Bitty Bao Books
Available in Board Book format.
Written in Chinese with Jyutping and English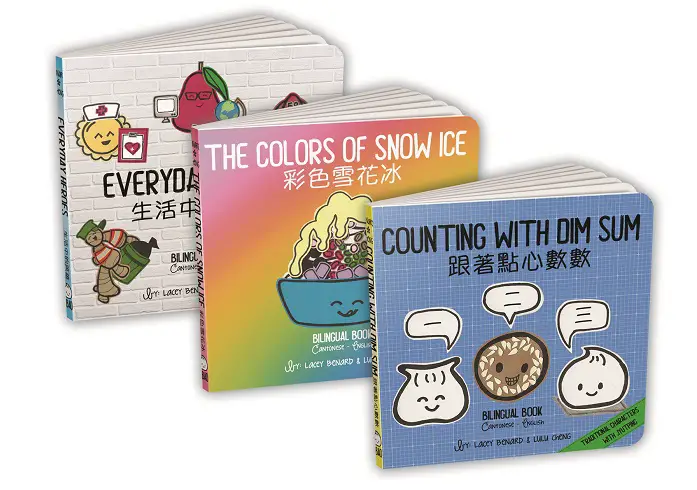 You might have already seen these delightful board books around, with their gorgeous drawings. They were initially available in Chinese with pinyin and zhuyin, and I could hear the oohs and the aaahs jumping out of social media at me from excited parents who received their bundles, and how I wished there was a Cantonese edition . Now the makers of the series have responded to the overwhelming demand for Cantonese versions, and the first three are now available in Chinese with Jyutping, and with some Colloquial Cantonese phrases included, and more are coming.
Everyday Heroes – Board Book 生活中的英雄 – this book is dedicated to the many people working hard in our communities, helping keep our world running smoothly.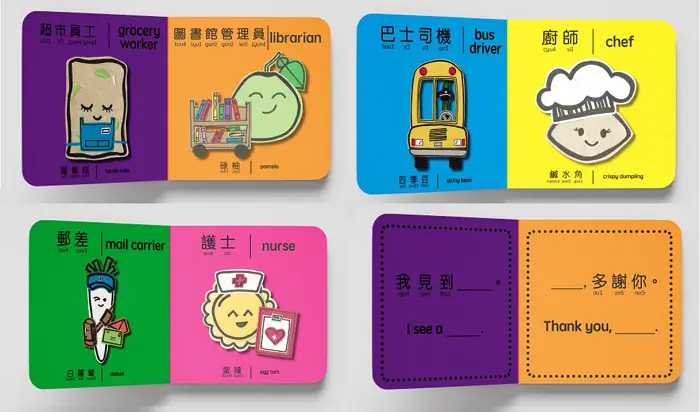 The Colors of Snow Ice 彩色雪花冰 – learn the colours with Snow Ice, a Taiwanese dessert. There's even a recipe for you to create this tummy dessert at home.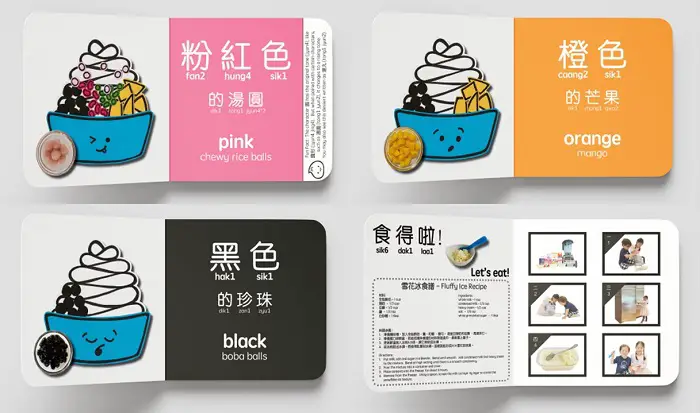 Counting With Dim Sum 跟著點心數數 – learn numbers by counting sumptuous dim sum pieces.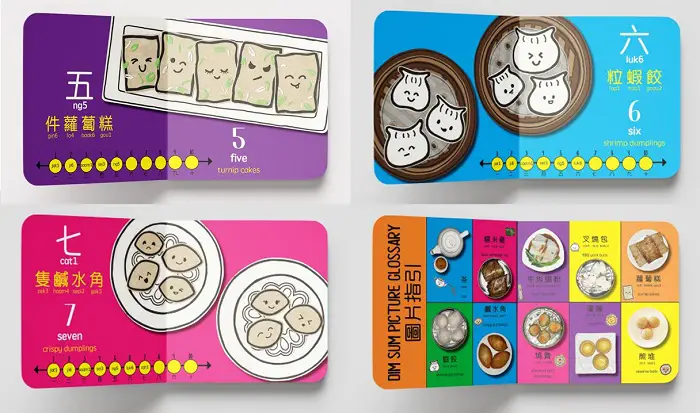 The board books measure approximately 14 cm x 14 cm (5.6″ x 5.6″)  in size, which is a good size for little ones. I have not seen the actual books, but I like what I have seen so far from the preview pages shared above.  The fonts are large and easy to read. Children (and adults) will fall in love with the colourful, gorgeous illustrations in each book. I read on their website that "All of Bitty Bao's book artwork are made by hand with lots and lots of love."  I also enjoyed reading more about the process and watching the short videos to see how the artwork is developed through papercutting, as well as seeing the fan art from all over the world.
The books are available for order on their website, either individually, or as a bundle, with options to add on a onesie, tote bag etc.
(Photos supplied by the authors.)
by Samantha Chan | JokSingJai
Available in ebook and paperback formats.
Written in English and Chinese with Cantonese Jyutping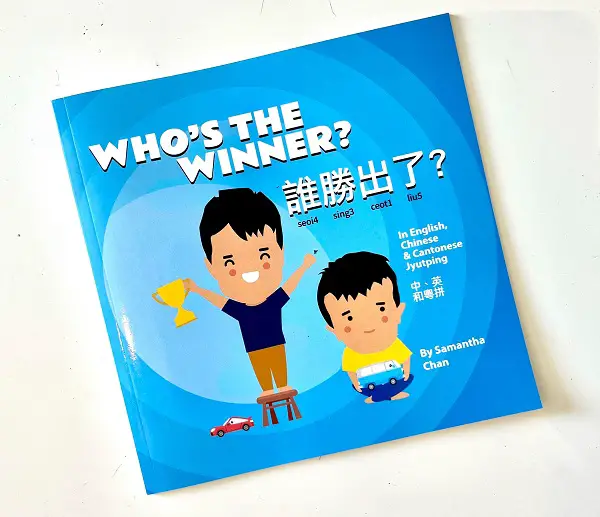 Another story of the adventures of the two brothers – I believe this is book number six. As Big Brother and Small Brother compete in a car race, they learn the important life lesson that it is not always about winning. Samantha's stories are great for reading Chinese in Cantonese, with her relatable and engaging stories. I reviewed this book via the video of YouTube Read Aloud, and thoroughly enjoyed the antics of the two brothers, and their strong  sibling bond, as well as how the author introduces life lessons, and the different emotions felt by the brothers.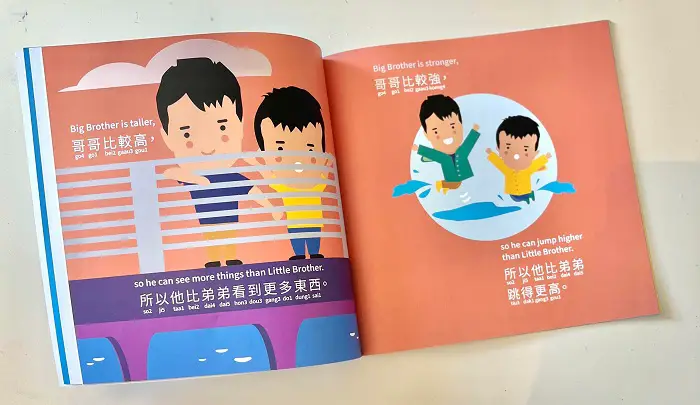 Uncategorised
by Hui Ying Yin
Available in paperback
Written in English and Traditional Chinese

I saw these on Amazon, but I. But I am pleased to see there looks to be a new series coming up. The books are in Traditional Chinese, with no Cantonese romanisation. I was not able to tell if they are in Colloquial Cantonese or in Chinese. But I'll be doing more research and hopefully I would be able to find out more details. But I am including them here to support more Cantonese books in any form, and because otherwise I would have 14 books only, and we all know that is not a lucky number.
In Conclusion
As you can see, there are so many different type of Cantonese books for you to choose from. Which have you read? Which is your favourite? Do support our Cantonese authors – buy a book, borrow one from the library,  watch it on YouTube, visit their websites. Cantonese books help to keep our language alive.
Have I missed out any books? Let me know in the comments below. I'll add it to the next roundup.
If you are looking for even more Cantonese books, check out the following posts
You might also enjoy reading: