Following on from the previous post Colloquial Cantonese Books for Kids Part 1 – Visual Dictionaries, comes Part 2 which is about Colloquial Cantonese storybooks.
Visual Dictionaries help children with expanding their vocabulary, but with storybooks, kids hear more of entire sentences, and stories read out. This helps with grammar and fluency.
When I first read sentences in Colloquial Cantonese (on social media), which had never come across this before when I was younger (except in phrase books for learners),  it felt really heartwarming, as I really felt "ah! My beautiful mother tongue". And as I read long forgotten (by me) sentences and phrases, I felt my Cantonese improving, as they help me reconnect to speaking the language (which I have always felt shy in speaking).
I also came to realize that lots of people also look for Colloquial Cantonese storybooks, because sometimes it is just too hard to translate them on the fly. For myself, I usually have to go through a book before hand to translate. How good it is to have something that you can read, especially if you are not a fluent speaker.
Here are some books that I have found – I have also indicated which ones I have read, but most, I have not. Some of the authors have only published one book to date, but I hope, and I believe,  they will be writing more, so watch this space!
(Note: Prices are correct at the time of writing, and may change. Different retailers may offer different prices). 
I was sent a digital version of this book for my review, and I have to say I love it! Today is my Birthday! 今日係我生日啊!is a Cantonese/English bilingual rhyming story book. It is a delightful story of a girl celebrating her birthday, and I am really impressed with the rhymes in both Cantonese and English. 
The book come with a YouTube read along.
This book is available as
a paperback (978-0-6451498-2-1) $16.73 on Amazon US (June 2021)
hardcover (978-0-6451498-0-7) $22.16 on Amazon US (June 2021)
eBook (978-0-6451498-1-4) $3.99 on on Amazon US (June 2021)
It is available on Amazon and other bookstores. Click here to find out where to buy it.
The books come with Traditional Chinese characters, Jyutping and English translations. I have not seen a physical copy of the book (only digital), but Amazon lists the details of the hardcover and paperback as approximately 20.3 x 20.3 cm and 32 pages.
I can't wait for the next book!
A charming story in Cantonese and English about Goh Goh  and Dai Dai's  adventures around the house with Elephant.  I viewed this story via Fortune Cookie Mom's video review on YouTube. It is a story with accompanying vocabulary of items in the picture. Similar to her vocabulary books (see #2 in this post), the Chinese words come with romanisation in Jyutping and phonetic English. Children will enjoy reading this!
The book is available as
a paperback (978-0999273067) $15.59 on Amazon US (June 2021)
hardcover (978-1955188067) $29.57 on Amazon US (June 2021)
eBook $3.99 on Amazon US (June 2021)
I have not seen a physical copy of the book, but Amazon lists the details of the hardcover and paperback as approximately 8.5″ x 8.5″ or 21.59 x  21.59 cm and 28 pages.

Pictures of books provided by Karen Yee
The Goldilocks story in Cantonese-English, and Jyutping about the well-known Goldilocks story. It comes with a free audio available on the website (you need to create an account). The audio for this book is 5 minutes and 37s , to give you an idea of how long the book is. I have not viewed the book, but have enjoyed the preview pages on Amazon.
This books is available as a Hardcover ( ISBN-13 : 978-1838209520) of 31 pages, and the size is 8.5″ x 8.5″ or 21.59 x  21.59 cm.
It retails on Amazon US for about USD 18;  there is a kindle version available for USD 4.

Pictures of book provided by Ann Hamilton.
This is a cute book to introduce dim sum and Cantonese culture via a Relatable story accompanied by everyday dialog. It focuses on 8 popular dishes with ingredients and phrases, and includes Jyutping and English translation. I have not viewed the book, but have enjoyed the preview pages on Amazon.
This book is available as a paperback of 26 pages, ISBN 979-8667652083. Dimensions are 6″ x 9″ or 15.24 x 22.86 cm. This retails for just under USD 10 on Amazon US, and the kindle (US) version is USD 3.08.
Pictures of book provided by Edwin Choi.

This is the first Colloquial Cantonese storybook that I owned, and this started my love for Cantonese books.
This is available as a
This book, similar to The Little Prince in other languages, suits older kids, as there are alot of words, and not that many pictures. There is no Jyutping, but you can listen to it being read on YouTube.
If you are interested in the background of the book, you can read more about the Little Prince Cantonese translation project and understand the translator's motivation, or watch a video of his interview on YouTube. This Cantonese edition is the work of a school teacher, in an effort to make preserve and protect the Cantonese language.
Update: The Jyutping editions of Little Prince and Animal Farm 動物農莊香港粵文版 will be released soon.
Richard Carlson's 
Children's Picture Books
I mentioned Richard Carlson's books in my earlier posts on Colloquial Cantonese visual dictionaries. He has books translated into many languages by professional translators. He also has a series of Cantonese storybooks:
I have no idea how the books look like on the inside, as amazon preview doesn't show the pages. However, I prefer to buy books written in Cantonese, rather than translated, so i am unlikely to buy any of these. If you have bought any of these, and like it (or not) , please let me know.
In Ebook Format only
Storybooks Canada offers free eBooks with Colloquial Cantonese and audio. There are 40 books in all. I am such a massive fan that I have in fact written an entire blogpost about them – so that you can download it most efficiently, as well as get the most out of these books.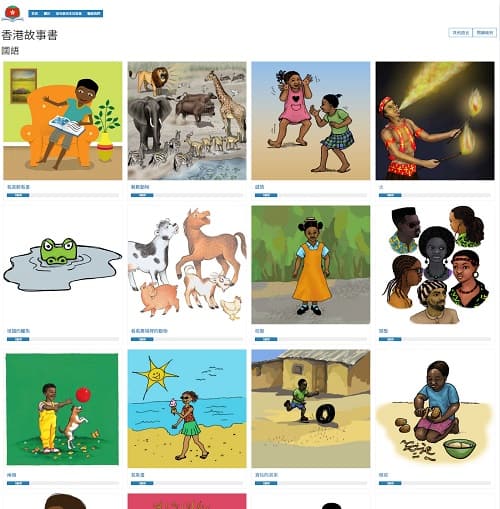 These are eBooks with the following features in the epub2 format, and include professional audio narrations. You can choose between to display Yale or Jyutping or no  romanisation, and English translation.
So far, the 27 eBooks under the following categories:
Aseop's fables
Hong Kong Legends
Hong Kong Horror Stories
They have recommended apps for their eBooks, as well as other technical concerns, which they address in their FAQ. Not all books are suitable for children. I would recommend that you check before purchase, especially the Hong Kong Horror Stories.
In Video, Book and PDF Format
I first came across Hambaanglaang Cantonese Graded Readers, a channel which reads Colloquial Cantonese graded readers  (with subtitles, Jyutping and even tonal marks)/ There are various playlists, grouped by levels and specify which are for adults, and which are for kids. They are exploring creating PDFs. At the time of publishing of this post, the channel has close to 100 videos, and more are being added regularly. This is really an amazing resource. The videos are not monetized, so you can play them without having to watch ads.
Update June 2021: Check out these newly launched Hambaanglaang graded Cantonese reader 冚唪唥粵文讀本.  Their new website also has PDF booklets and audio for free download, and more. (Please note the Free PDF Readers are in a different format from their print copy).  Print copy is now available from their online store for HKD 125 for a set of 5 books, and they deliver internationally. Amazing! I will provide more details at a later date, but do visit their website website.
In Video Format
In addition to Cantonese vocabulary videos, Kong Mark Ye also has more stories with Colloquial Cantonese subtitles and Jyutping. So far the stories follow two different themes, Cantonese Grammar, and Chinese idioms (成語). The videos are adorable, and introduces lots of Cantonese learning.
A number of stories, including social stories, these videos have Colloquial Cantonese subtitles, though no Jyutping. Still, I found it really good to practice my Cantonese. And I really appreciate the social stories which include 點解要打招呼 and 嬲可以點做. Do also check out their songs, all of which are original composition.
I really like that more and more videos are made with Colloquial Cantonese subtitles, and really makes learning Cantonese easier, especially those who prefer video-audio input. I appreciate all the hard work that goes in, and I hope the creators will also consider a print format, or make the transcript available to help learners revise. I used to learn foreign languages by reviewing transcripts over and over again, and understand the power of that tool.
My Wishlist
A written form helps a language live longer. That is why I am so happy to see more Colloquial Cantonese resources being created, and why it has a special place in my heart. While many fluent Cantonese speakers see no need for these resources, as they can translate on the fly, the next generation, especially those growing up outside Hong Kong and Macau will not find it so easy. I hope more of these resources will be created.
To the colloquial Cantonese book authors, thank you and please continue the good work!
To Cantonese speaking Chinese book authors, thank you and please consider having a Colloquial Cantonese version (even just an e-version) , or having a guide to how to read it in Cantonese (even if it is something to download from your website)
To Cantonese video content creators, thank you and please consider Cantonese subtitles, and Cantonese transcripts.
To everyone else, please support Cantonese content creators! Where there is demand, supply will grow.
I truly believe all these makes a difference. Already, the number of resources have increased exponentially over the last few years, as more and more people (myself included), become more and more passionate about passing on Cantonese.
Have I missed anything?
I hope you have enjoyed learning about these books. If you are looking for such books, check for "Colloquial Cantonese, Spoken Cantonese or Conversational Cantonese" in its description. And if you know of any other Colloquial Cantonese books, please let me know. I'll add any vocabulary books to the list above.