I have previously blogged about my fabulous find – 71 levelled Chinese readers from Meizhou Chinese , of which 48 had audio in Colloquial Cantonese and Formal Cantonese audio. All for free. However, the print readers only come in  Standard Chinese.
Colloquial Cantonese Transcript
I had always been meaning to transcribe the readers to Colloquial Cantonese, and share them. I had started on Set 1 for my own use, but never quite finished tidying them up and posting them up… till now.
The transcripts are within a table comparing each story in standard Chinese with Colloquial Cantonese. One version with Jyutping and one without. YOu can download them for free here: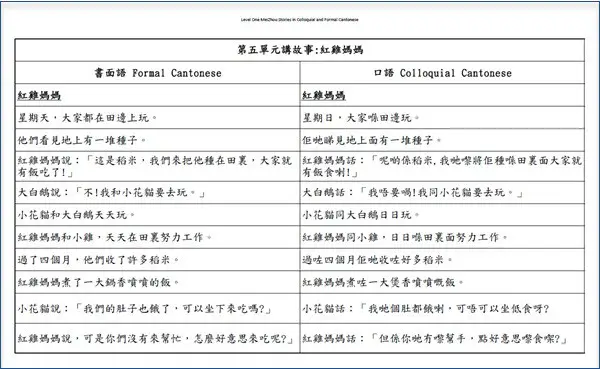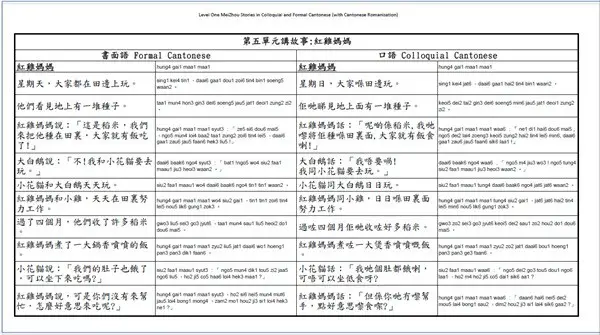 Colloquial Cantonese Readers
With the Colloquial Cantonese text, I created these books for my personal use with my kid, who needs help in learning to speak Cantonese. I had used the PowerPoint generously shared on Meizhou website (external link) to create these books. I have also created a glossary at the back.
I'm adding them to this post too, in hope that they might help you.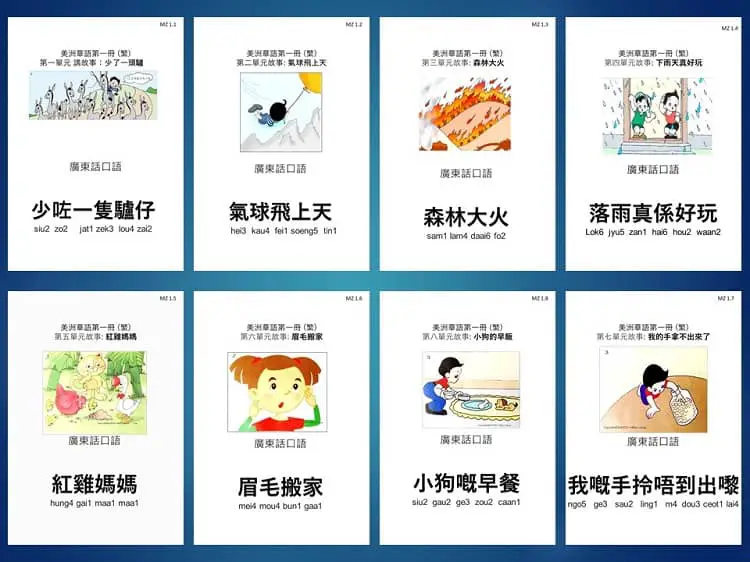 Here are the eight Colloquial Cantonese Readers from Level 1 for free download:
Please note
Pictures and text are copyright of Meizhou Group editors.
I transcribed the audio (a very tedious project) and added in Jyutping. It  is not a professional job; please let me know if you spot my mistakes, so that I can correct them.
I had brightened and shrunk the pictures to make them more print friendly.
I opted not to have the text flowing like a proper paragraph, but instead I broke the sentence up into easy to smaller chunks for myself to teach my kid. I hope it doesn't disturb you too much.
The vocabulary list at the back is a little random, and for the later books, I chose longer phrases as this was what my kid needed.
All in all, this was created for my personal needs, so may not be in the format to suit you, though I do hope you might find them helpful
About Meizhou
The audio, and lots of other goodies are on the Meizhou website. I wrote a post to help you navigate it.
Frequently asked questions (FAQ) that I expect you might have:
Why did I transcribe these texts when I know that I can translate books off the fly?
Firstly, each time I translate off the fly, the phrases I use are different. Hence my child will not benefit from hearing the same phrases repeatedly. I still do this for some books.
Secondly, I am looking for levelled readers, and have actually translated some for my own use. (I am not sharing them because their original text is not publicly available on the internet, unlike Meizhou stories). I find levelled readers great because the vocabulary and sentence patterns are deliberately thought out for each level. And this is what I need for my kid, who is not a native or fluent speaker.
Thirdly, I realise my translations can sound a bit stiff, when I try to type it out/ write it out. The way I may say it looks different when I put it to print. Often now when I am translating, I have to make a conscious effort to put in the final particles 尾音, when I try to put speech to print, and I feel that there is a room for improvement. And these particles 尾音are such an integral part of Cantonese, and the hardest to teach. (Of course, maybe you don't have this issue, but I do).
E.g. Go to sleep, it is already 10pm
已經十點鐘囉喎,去訓覺喇!  vs 已經十點鐘, 去訓覺喇!
Why don't you just buy Colloquial Cantonese books?
Firstly, I have been buying Colloquial Cantonese books, and I encourage everyone to, too. It is important to support these literary works, which is of great importance in preserving Cantonese. However, while there are an increasing number of such books produced (check out the HK Book Fair this year) , there needs to be more.
Secondly, I have been looking for levelled readers, and there wasn't many available (that I know of). I knew of Storybooks Canada but couldn't find others. It is only now Hambaanglaang 冚唪唥粵文 has launched their Colloquial Cantonese readers, which I am very excited about. (More on this in a future blog).
You might also enjoy reading: