Learning Cantonese does not have to be expensive. Here are a comprehensive list of free online learning resources for Cantonese, predominantly for beginners and intermediate learners. Regardless of your learning style, you should be able to find something that suits your needs. Videos, podcast, grammar lessons, language tips and more to start you on your Cantonese learning journey. Some of these websites have additional paid portions for additional resources.
For most people, online resources and self-study may not be enough to learn a language from scratch, especially a tonal language, but this might help to supplement your other resources. I certainly find it useful to have practice material from  many sources when I am learning something.
For those who speak Cantonese, these resources are good for refreshing your memory, or helping you understand the structure of Cantonese, if you need to teach others.
This website is probably has one of the largest database of free Cantonese materials. To access them, you will need to sign up for a free lifetime account. Some things I find useful :
great articles under their resource category to explain the Cantonese language basics, grammar and so forth.
short video/audio clips in Colloquial Cantonese
vocabulary list (I would give this a miss if you are a beginner, as they seem to combine both Colloquial Cantonese and Standard Chinese in their list.) However, if you follow their Facebook page, they share vocabulary and dialogue info-graphics in Colloquial Cantonese that are not on their website.
In addition, available for free download as PDFs, are lots of lots of
Some of their other materials require a paid subscription to access. They have three paid subscription levels, but I have not accessed them, and hence unable to comment. Cantonese 101 is part of Innovative Language, which has various other languages on offer.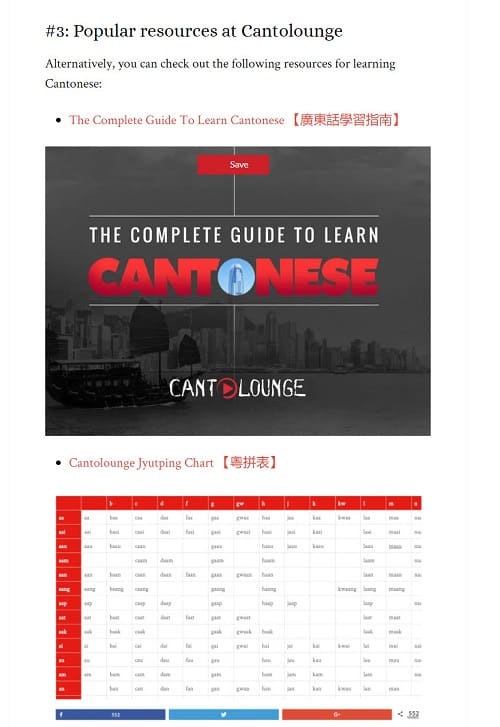 There are lots of good information on this blog, and very useful reference materials including :
Free 127-page 'The Complete Guide To Learn Cantonese" PDF for download ( perfect for beginners to get a grasp of what it takes to learn Cantonese).
Grammar lessons (video, vocabulary and transcripts)
Particles cheatsheet featuring 41 particles (recommended)
Jyutping chart where you can play more than 1500 + recordings
Lots of video and audio lessons
Baggio, the founder, is a Hong Konger who is based in Canada. He also offers additional Cantonese tips via e-newsletters.
Providing extensive and systematic grammar coverage of Colloquial Cantonese, with lots of examples of usage, and audio clips. For more details, please read our review. Update: There has been changes to the website, and it is not as easy to find the grammar lessons from the home page. Click here to go to Grammar lessons instead, and also use the search function.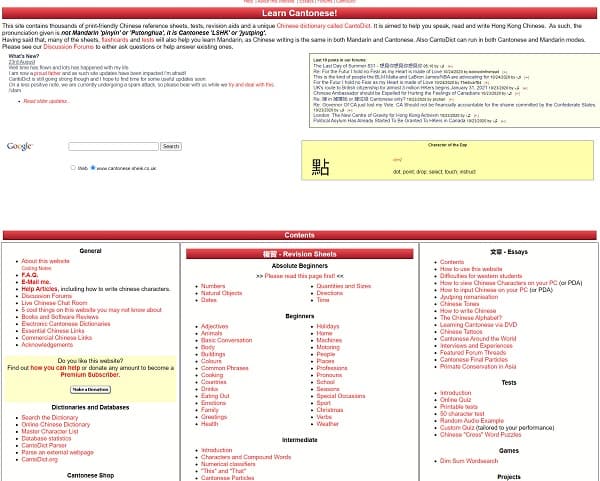 A community forum and lots of Cantonese resources, including CantoDict!. For more details, please read our review.
Luke Truman, a Westerner who has learnt Cantonese in 2 years, shares his resources for learning languages, including Cantonese. The website is a little confusing, so you would have to spend some time to navigate it but it is worth the time as he offers insights to learning from a Western perspective. The article How I learned Cantonese in 2 years is very insightful. He also has a guest post on Fluent in 3 months that I would recommend reading.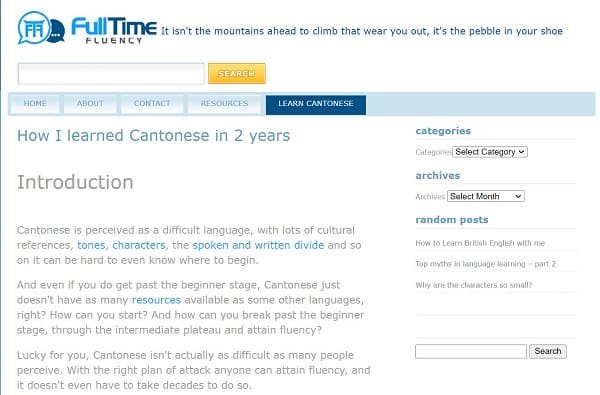 Update: The website is down, but has been archived here. Here are the updated links to the article:
This is a community and learning resource for language learners all around the world. Founder Benny speaks 7 languages (though I don't think Cantonese is one of them).  However, there is a page detailing Cantonese resources, including paid courses and some guests posts from people who actually are learning and speaking Cantonese. Read the very encouraging article Why Cantonese isn't as difficult as you think. Also, lots of language learning hacks make this page worth visiting.
Olly Richards, the founder of I will teach you a language, speaks 8 languages, and offers lots of language tips (not specific to Cantonese), but you can filter the articles by language. He shares a good article How to learn Cantonese in 1 year! He also offers many different paid language courses including  Cantonese conversations (Intermediate) . He also has e-newsletter tips for each language, but you have to pick one language at a time.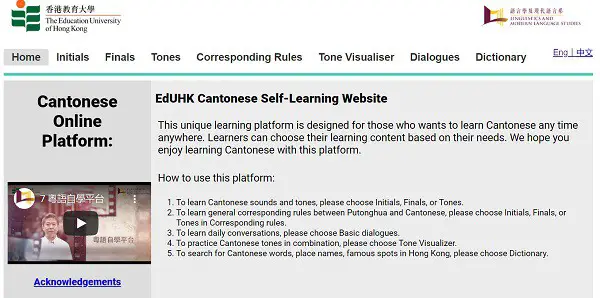 A self-learning platform by the Linguistics and Modern Language Studies, for learning Cantonese. Available in both English or Chinese. You can learn Cantonese sounds and tones, daily conversations, commonalities between Cantonese and Mandarin and there is also a dictionary. Registration is required for first time users.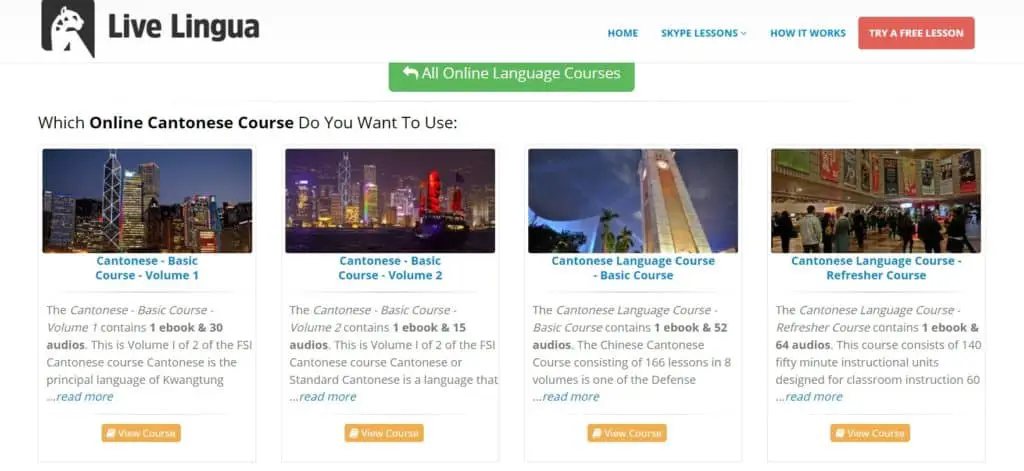 Includes four Cantonese courses, 33 eBooks and 161 audios completely free. Read our review to decide if this suits you as well as learn the fastest way to download the files. (You wouldn't want to download them one by one if possible!)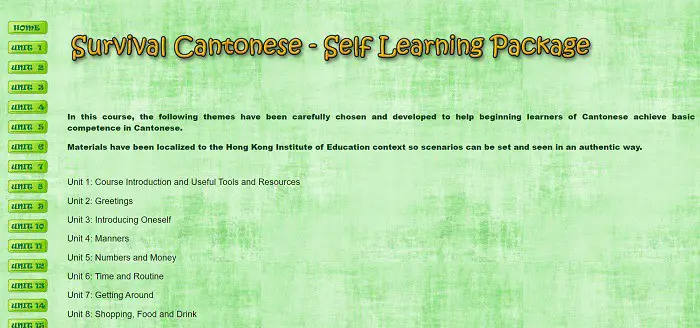 There are 15 units with basic phrases based on various themes, and simple grammar lessons for you to understand basic grammar structures.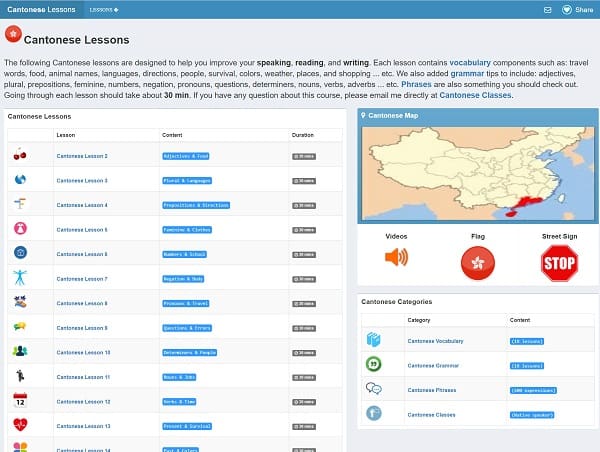 Free Cantonese lessons designed to help you improve your speaking, reading, and writing. Each lesson contains vocabulary components such as: travel words, food, animal names, languages, directions, people, survival, colors, weather, places, and shopping … etc. There are also grammar tips included: adjectives, plural, prepositions, feminine, numbers, negation, pronouns, questions, determiners, nouns, verbs, adverbs … etc. Audio included
I find this a good introduction to Cantonese, nicely laid out, similar to a good book with audio.
24 downloadable PDFs of Cantonese lesson notes by Jade Jia Ying Wu, who is a Cantonese teacher, author and also hosts Cantonese Daily language podcast.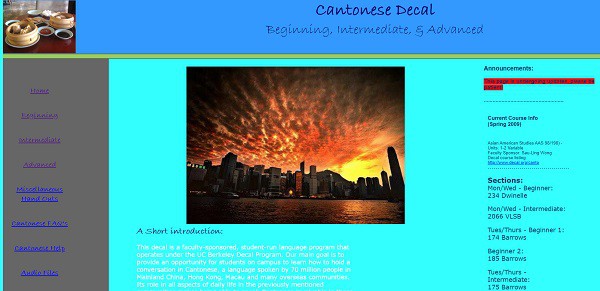 Handouts from the Cantonese decal are  available for download. This is a faculty-sponsored, student-run language program that operates under the UC Berkeley Decal Program. The notes do not constitute a full Cantonese learning program, but might be useful to supplement your learning. There are also audio files available.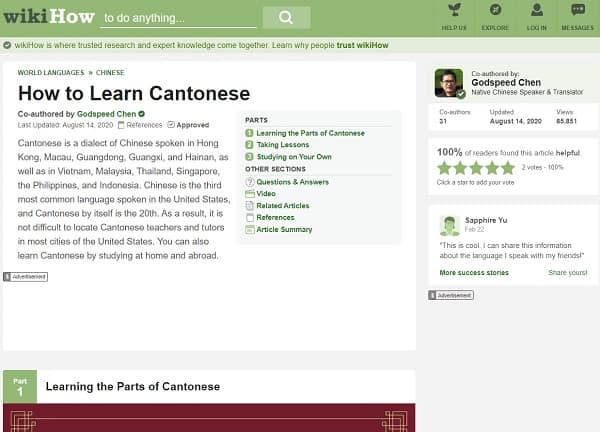 If you would prefer to have a short succinct summary on how to learn Cantonese, wikihow has you covered, with their  How to Learn Cantonese article, accessible without giving your email address.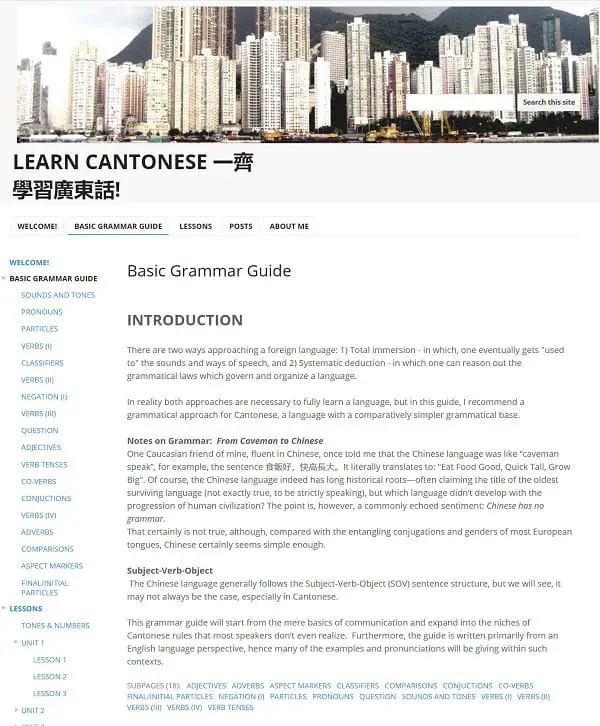 Good basic grammar guide here. The rest of the site looks it is under development.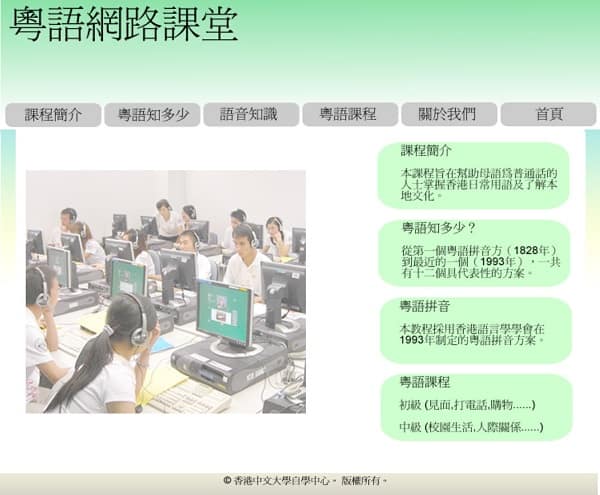 This course is for Mandarin native speakers, and is in Traditional Chinese, with the aim of helping them learn Cantonese and understand the local culture. Developed by The Chinese University of Hong Kong, the course is divided into elementary and intermediate levels. The lessons include vocabulary, phrases, dialogue, short passages, and game modules. The website is over 10 years old and uses Flash for audio.
This is in simplified Chinese, for Mandarin speakers. There are a lot of information on this site, mostly for a wide variety of Cantonese, especially the Guangzhou variant. There is a specific section on Hong Kong Cantonese. The audio is in Flash.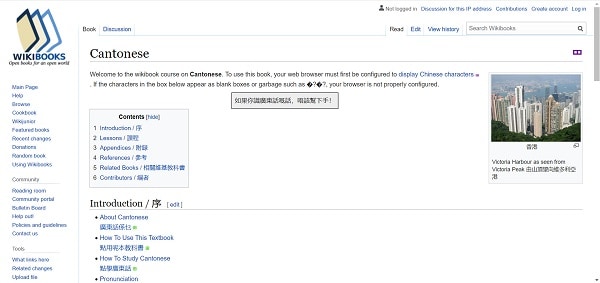 10 lessons to date, this looks like it is under development. I do like that they compare Colloquial Cantonese with Standard Chinese.
This Cantonese school for kids has generously shared their curriculum online. Includes videos, printables, worksheets. Mixture of Colloquial Cantonese (in videos) and Formal Cantonese in videos and print. Good to learn with your kid. For more details, please read our review. 
Tip: Please note some of these resources would ask to add you onto their mailing list in exchange for information. If you sign up on a few sites, you might get an influx of emails which might be a tad overwhelming. If so, here's a tip- set up a filter for these emails and have them sent to a folder Learning Cantonese, but don't forget to check regularly. Of course, you might prefer to have the emails in your inbox, so that you will be reminded  frequently to study Cantonese. It all depends on your learning style.
Coming Up Soon:
Please look out for our future posts compiling YouTube videos and podcasts for learning Cantonese. Please feel free to leave a comment if you have any to recommend.
For More Online Cantonese Resources:
Anything I Missed?
Have I missed any good resources? Or maybe you have a question about something. If so, please feel free to drop a comment on this post. I will continue to update this post with more resources.