Learning Cantonese today is much easier than in the past with so many online dictionaries and online tools
Here I list a few Cantonese dictionaries, because I recommend checking multiple sources to confirm the accuracy of each translation since most of these dictionaries are crowdsourced. Also, there are limitations to each dictionary, and often may not have the phrases I seek.  I actually do prefer to use dictionary apps on the phone, but sometimes I am on the computer, and hence just want to cut and paste a word into a search box.
A Cantonese-Chinese / Cantonese – English dictionary with examples. This is my first choice of dictionaries, but most entries do require a level of understanding of Chinese characters. Since late 2018, this dictionary has also been incorporated into the mobile version of Pleco.
WSJ featured an interview with the Mr Lau Chaak-ming, a lecturer in Cantonese at the University of Hong Kong, who launched this project in 2014.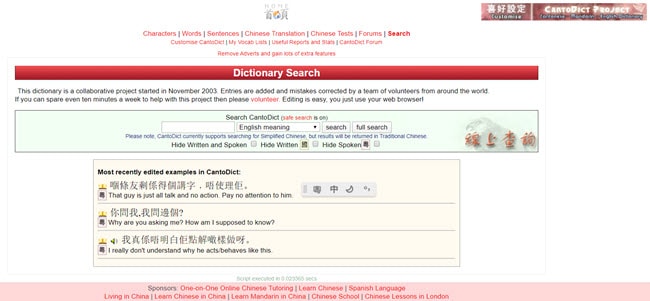 This dictionary is a collaborative project started in November 2003. Entries are added and mistakes corrected by a team of volunteers from around the world, as is one of the more popular Cantonese dictionaries online.
CC-Canto, created by Pleco Software, is an open-source Cantonese-to-English dictionary with about 22,000 entries and human-checked Cantonese readings to CC-CEDICT so that it can be easily searched in Cantonese. You can choose Traditional / Simplified, ways to search via letters e,g. Jyutping, Yale, English; and romanisation to display (Yale/ Jyutping). I do find the smartphone Pleco app having a better functionality and is linked to my Cantonese dictionaries, but the desktop version was also able to translate some phrases that some of the other online dictionaries were not able to, such as 放飛劍 and 兩頭蛇.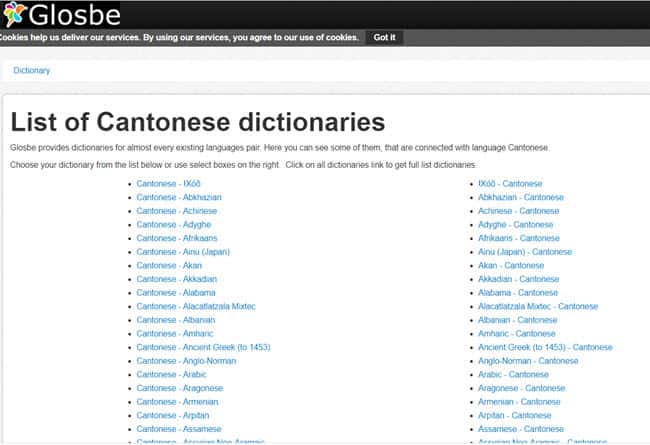 Glosbe provides dictionaries for almost every existing languages pair. I have not personally used this but this looks useful if you are looking for other language references. They also have sample sentences in Cantonese loosely related to the word or phrase you are looking for.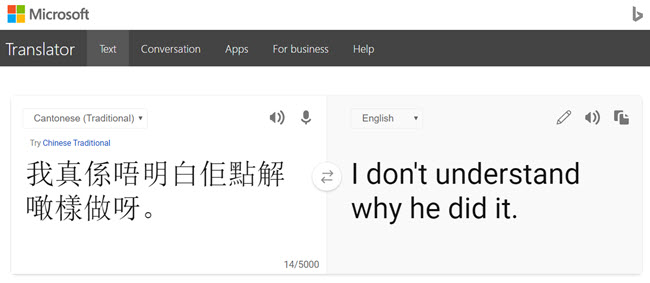 Bing Microsoft Translator can help to translate from Cantonese to English and other languages, and vice versa. The beauty of it is that it can read out Cantonese, as it has Text to Voice function, and I would often copy huge chunks of text for it to be read out. It is not a perfect reading since many Chinese characters with different tones, and it does sound slightly robotic, but still a decent option. In terms of translation, they are able to support basic commonly used phrases such as 馬騮 (monkey) but was not able to translate idioms such as 放飛劍 and 兩頭蛇 . If you are translating from English, it provides an almost acceptable Cantonese translation, though with some errors.
Do note, when you have Cantonese chosen as an option, they will annoyingly ask you to "Try Chinese Traditional". But at least they have reinstated the text to speech function which was what was disabled in mid 2019. Definitely much better than Google Translator, which does not translate Cantonese, so there are hilarious results when you attempt to translate Written Cantonese.
Other Cantonese dictionaries from the archives
These are rather old, from over 100 years ago, but soo interesting to see how Cantonese was like in the old days, and how dictionaries have evolved. This compilation of online Cantonese dictionaries would not be complete without them!
There are many Chinese dictionaries online, and those of useful if you are learning Standard Chinese or Mandarin. But these above are the ones that can translate Colloquial Cantonese phrases. Do you know of other online Cantonese dictionaries ? Please let us know so that we can update our list. Thank you!
For More Online Cantonese Resources:
 Anything I Missed?
Have I missed any good resources? Or maybe you have a question about something. If so, please feel free to drop a comment on this post. I will continue to update this post with more resources.