This year is my first year participating in Multicultural Children's Book Day, and I think this is a great initiate to boost book diversity, and promote inclusiveness. I was a little disappointed though, that there seems to be no Cantonese books. In fact, when I have registered there was only the category Chinese.
Clearly we need to increase the visibility of Cantonese books. Hence, I decided to take the opportunity of Multicultural Children's Book Day to review some Cantonese books  – four are recently published works, and as a bonus, I wanted to share a classic series that I discovered is available again. These Cantonese books tie in well with the theme of Multicultural Children's Book Day, and also help readers discover more Cantonese books. #ReadYourWorld
Here are the books that I am reviewing below, in no particular order:

1) My Troublesome Little Sister 我的麻煩妹妹
By Farina Leong
Available in eBook,  paperback and hardback formats.
Written in Cantonese with Jyutping and English.
36 pages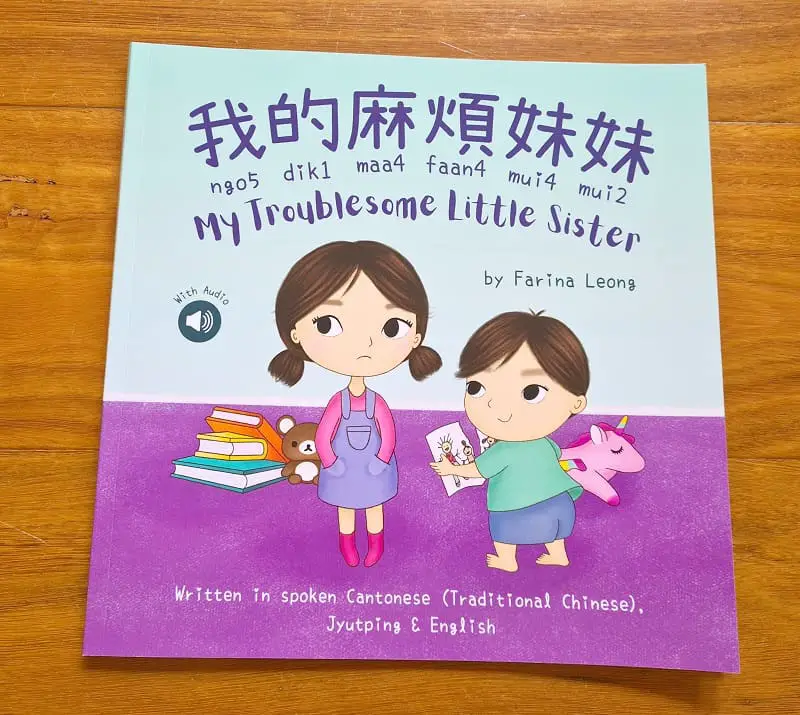 From the creator of Learning Spoken Cantonese for Kids vocabulary series, comes a beautiful story about sibling love. The light-hearted recounting of the family interactions perfectly captures the ups and downs of having a sibling, and depict the strength of the sibling bonds forged through seemingly ordinary moments . The illustrations are sweet and captivating, and will draw you deeper into the story.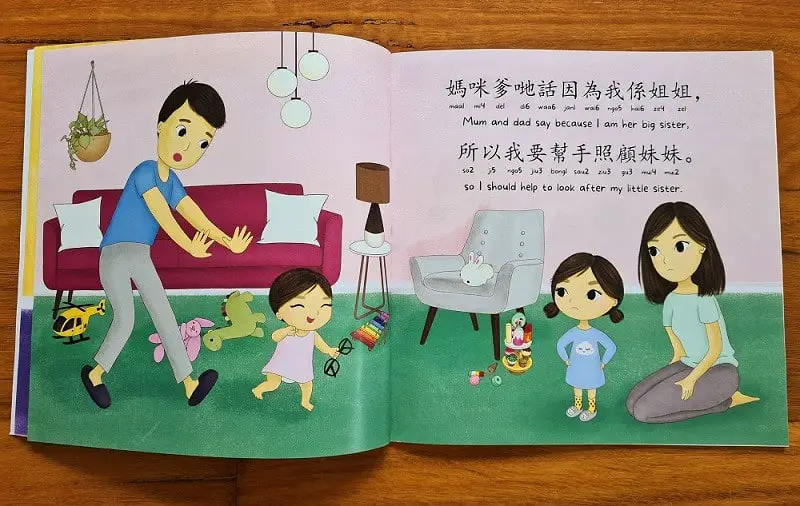 The book contains both Colloquial Cantonese and Jyutping, and an English translation. The words are large, and easy to read. There is a glossary and some interactive puzzles at the back of the book. You can also access audio via a QR code.
My child loved this tender and funny bilingual story, even though she has no siblings. I would highly recommend this book.
For more information, please visit the Little Canto Learning website. The author also has lots of free resources including posters and flashcards that one can download for teaching Cantonese.
2) Chinese New Year Greetings For Jok Sings
By Samantha Chan
Available in eBook and paperback formats.
Written in Cantonese with Jyutping and English.
33 pages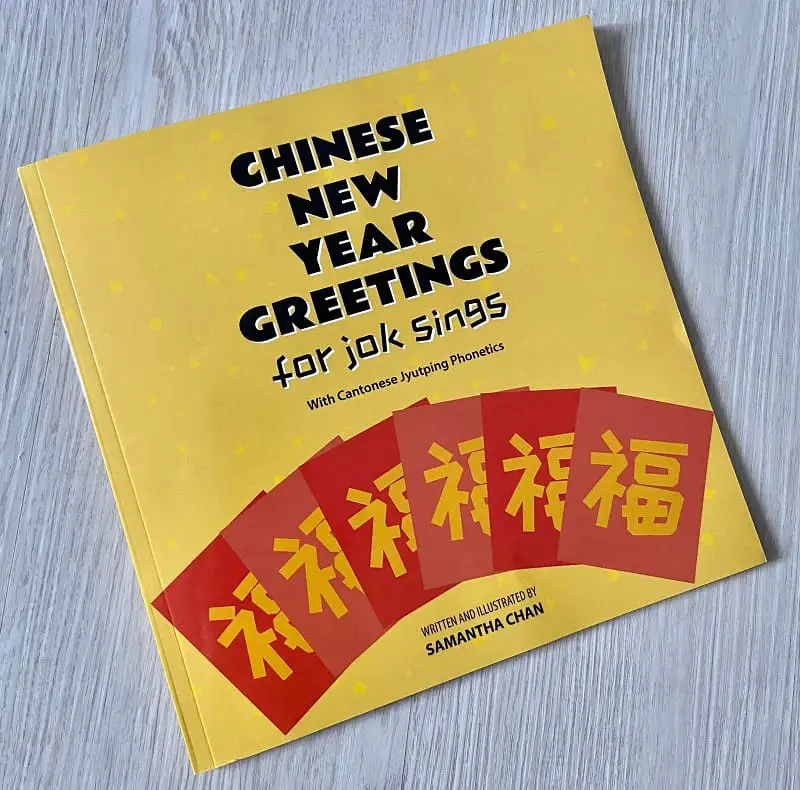 This delightful guide makes it seem easy to navigate the complexity of Chinese New Year greetings – from the terns of address for your different relatives (we all know how complicated the Cantonese family tree is!), to the appropriate Chinese New Year Greetings for different scenarios. You will also learn how to construct zodiac-specific greetings, impressing your relatives and friends year after year.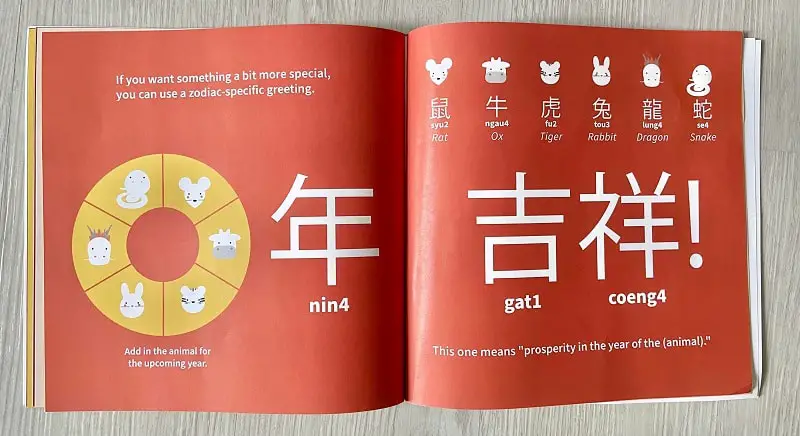 With charming illustrations, Chinese characters accompanied with Jyutping (Cantonese romanisation) and English translation, this an enjoyable and stress-free way to help your Jok Sing child(ren) nail their Chinese New Year greetings in time for the festivities.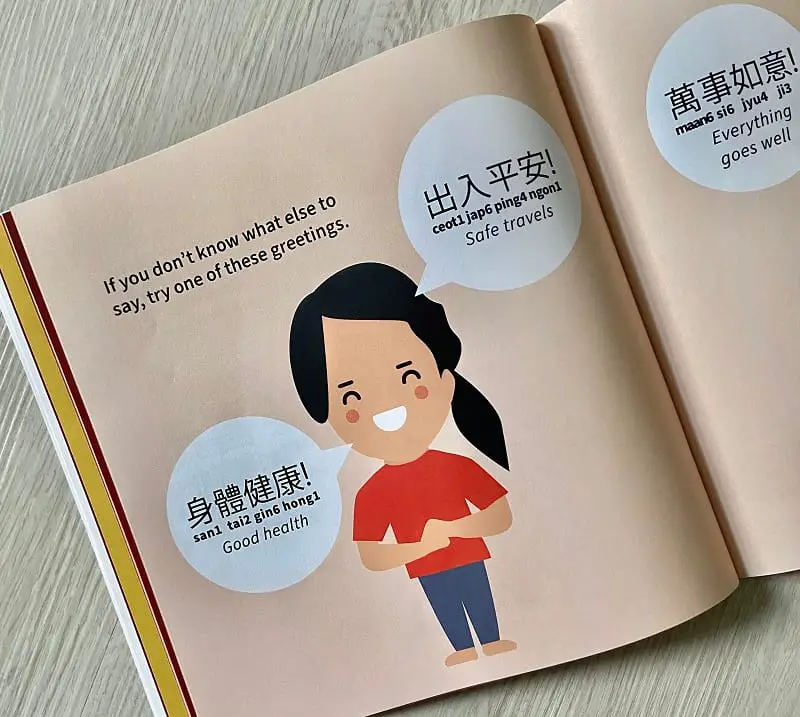 (Jok Sing竹升 is a 'Cantonese term for an overseas Chinese person who was born in a Western environment or a Chinese person who more readily or strongly identifies with Western culture than traditional Chinese culture.' (source- wiki). )
For more information, please visit the Jok Sing Jai website.
(Disclaimer: I reviewed a Kindle copy of the book. Photos of the physical copy have been provided by the author at my request, because I wanted to show what the physical  book looks like. For the e-Book, you can look at the Kindle preview.)
3) Mina Goes to the Beach – Cantonese Edition
By Katrina Liu
Written in Cantonese with Jyutping, and English
Available in eBook, paperback and hardback formats.
27 pages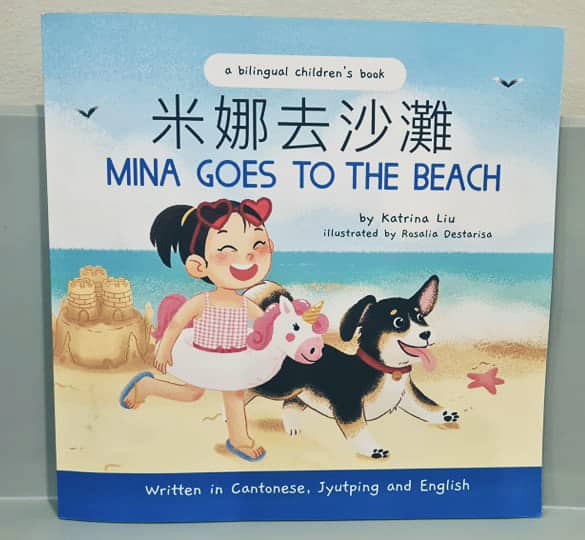 I was delighted to see Cantonese Mommy's announcement about the publication of this Cantonese book. I had come across a few of the author's bilingual Chinese-English books, and had always lamented that there were no Cantonese editions. Thankfully, author Katrina Liu had decided to develop a Cantonese edition due to the frequent requests she received.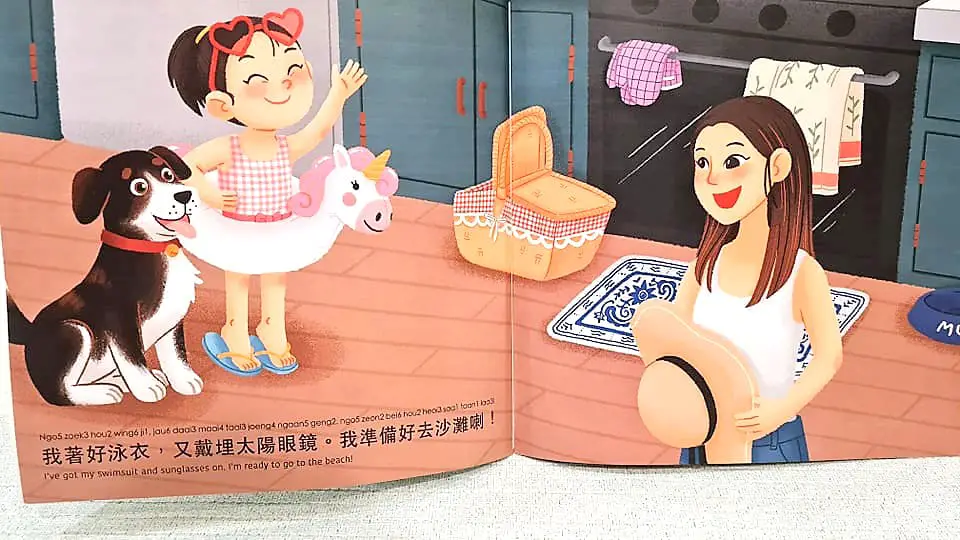 It was the perfect timing for us to read Mina Goes to the Beach, as it is the summer holidays now in Australia and going to the beach is such a quintessential summer experience here. The bright and colourful illustrations of the beach, and their cheerful depictions of happy faces (Mina's laughter is especially infectious!) evoke feelings of joy, and I can just feel the sand and the sun as I follow Mina and her family going on their beach day out. The light-hearted humour had us chuckling throughout the book. I also like that the Chinese characters are large and easy to read. Free audio is available on the website.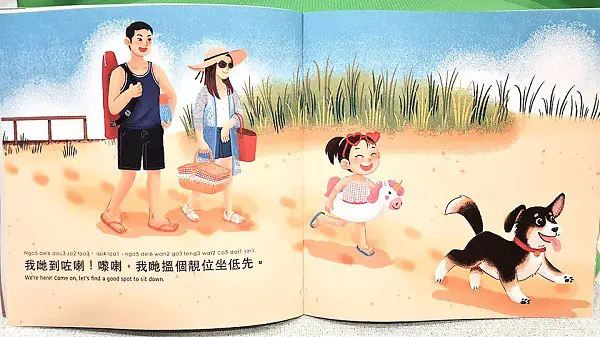 The Cantonese translation is done in collaboration with Cantonese Mommy, Lee Dennig (a Cantonese lecturer at Stanford) , and Ella Tam. The audio of the book reading on the website is by Cantonese Mommy. I can't wait for the rest of the Mina Learns Chinese series to be translated to Cantonese. I hope it will be soon before my child decided she is too old for picture books.
For more information on Mina Goes to the Beach – Cantonese Edition, please visit the Mina Learns Chinese website.
(Disclaimer: I received a digital copy of this book in exchange for an honest review. Opinions are my own. Photos of the physical copy supplied by Cantonese Mommy.)
4. The Little Prince in Cantonese with Jyutping 小王子香港粵拼版
By Antoine De Saint-Exupery (French)安東尼.廸.聖艾舒比尼 and translated by Thomas Tsoi 蔡偉泉
Available as eBook and Hardback
Written in Cantonese with Jyutping and English.
205 pages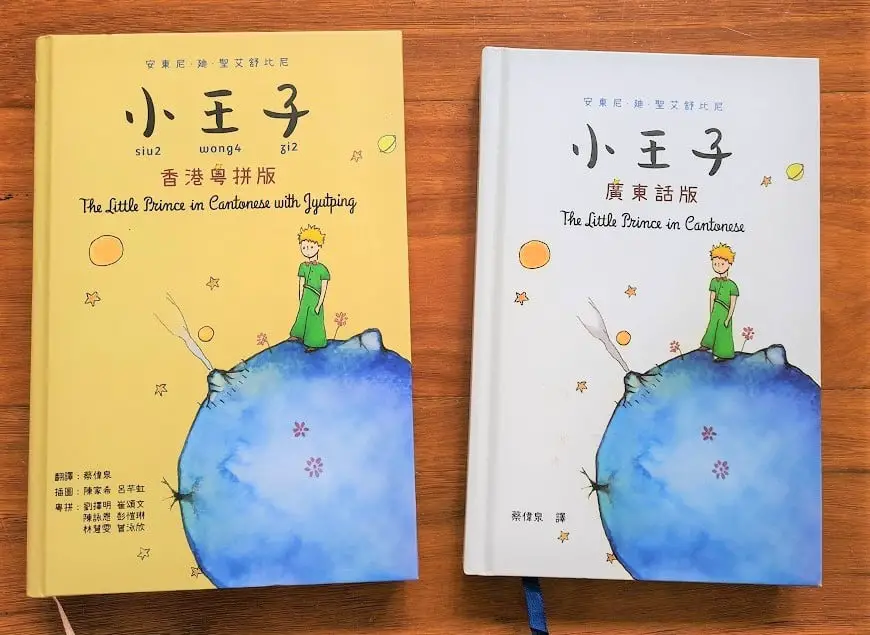 Four years after The Little Prince in Cantonese (free on Google Books) was published, there is a new edition – The Little Prince in Cantonese with Jyutping.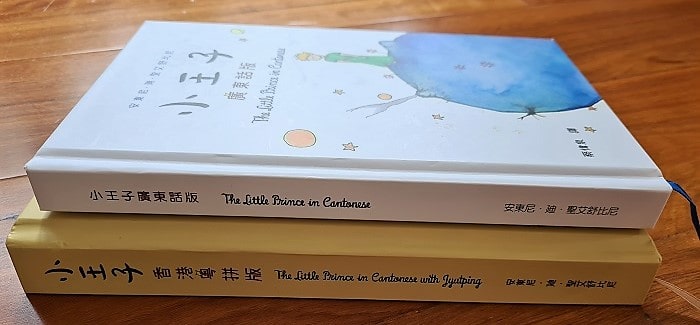 I believe The Little Prince needs no introduction. The Cantonese version, similar to The Little Prince in other languages, would suit older kids, as there are alot of words, and not that many pictures. But what gorgeous pictures they are! Or you could choose to read it to younger children.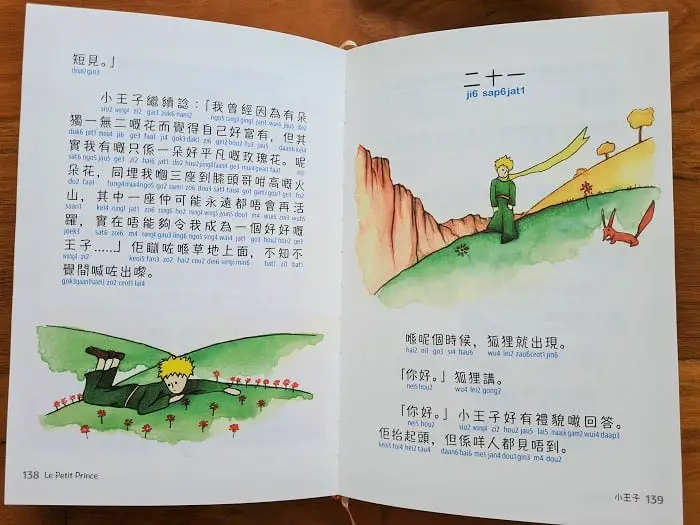 I already own the first book, but had decided to buy this second book on a whim, and I am so glad that I did. I like the first book, but I am absolutely in love with new edition with Jyutping. The book is beautifully crafted like a work of art. Every page looks enticing, the illustrations are vibrant and Chinese characters are larger in this edition, with the Jyutping in blue. The paper has a smooth finish. It feels like a collector's edition. Do note, it is also more expensive than the first edition – sold locally in Hong Kng at HKD128 vs the HKD78.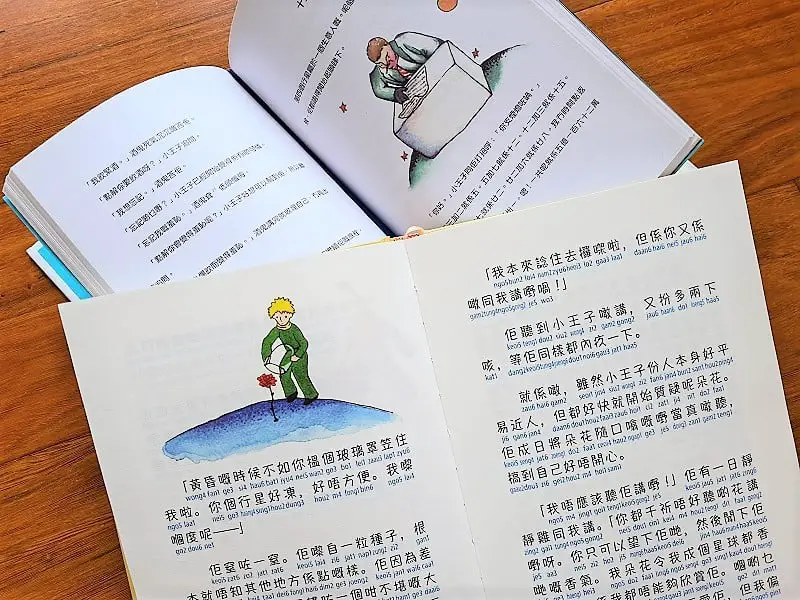 And here is a comparison with two English editions of The Little Prince that I have.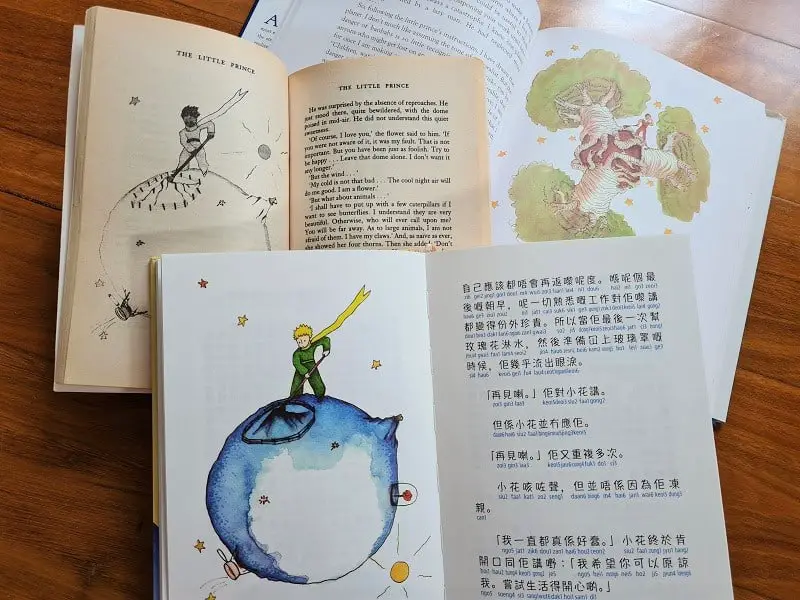 It is also heart-warming (好溫馨嘅感覺!) to read Cantonese as it is spoken, without the need to translate it in my head. TIt is one thing for me to translate a picture book or a simple story to Cantonese when reading, but a book like The Little Prince requires a different level of fluency to do it justice. he book is beautiful translated, with idioms and colloquial expressions, bringing out the beauty of Cantonese.
And I love the illustration at the end, which is unique to this edition. The one of the little prince sitting on the hill, and looking down at the Hong Kong nightscape. I have a postcard of this, but what i would like is a poster that I could hang up.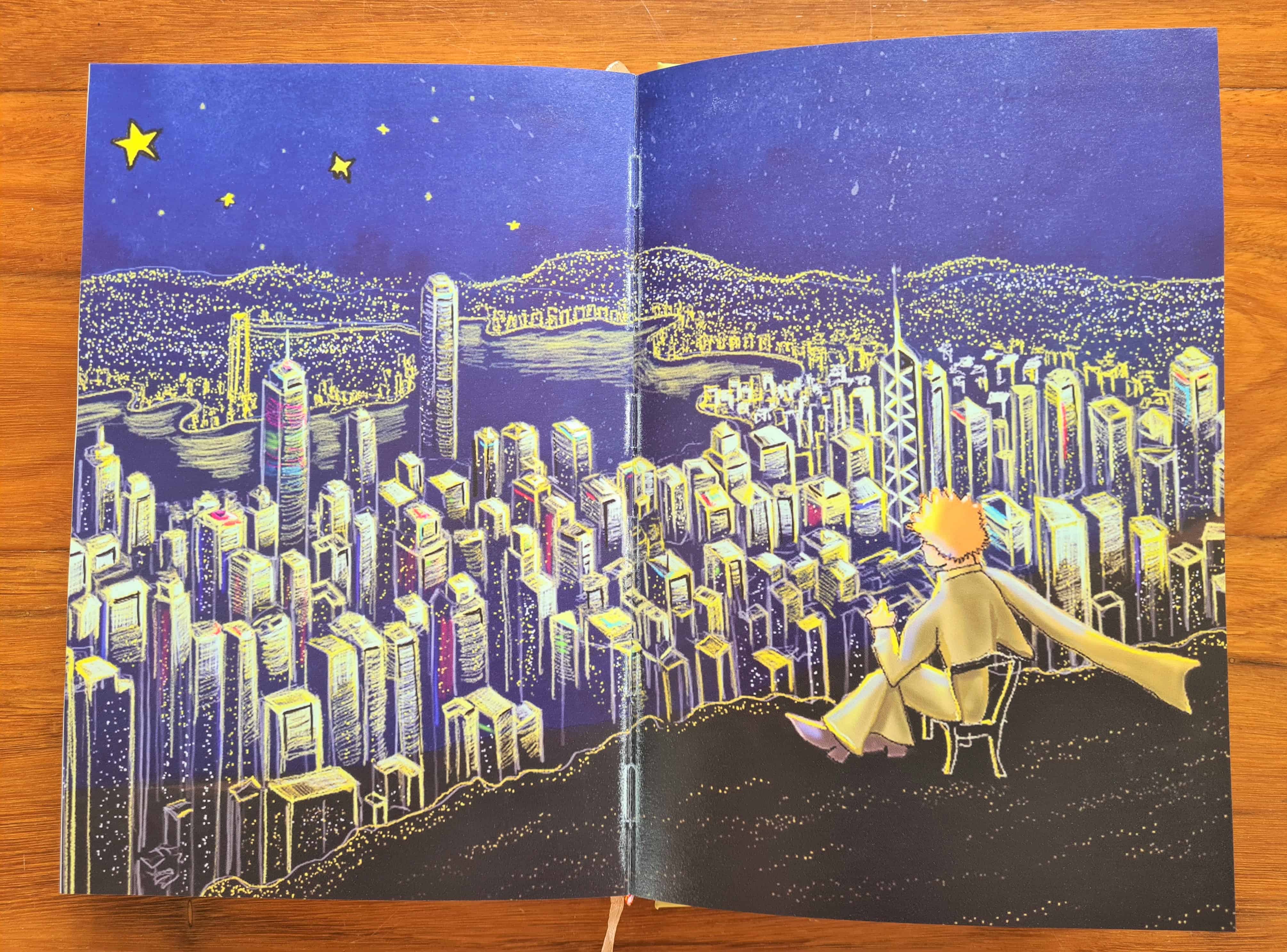 At the back of the book, there are notes for learners of Cantonese as well as for collectors.
If you are interested in learning more about the background of the Cantonese edition, you can read more about the Little Prince Cantonese translation project and understand the translator's motivation. This Cantonese edition is the work of a school teacher, in an effort to make preserve and protect the Cantonese language.
For more information, please visit the The Little Prince Hong Kong website.
5. McDull's Cantonese vs Mandarin/ Chinese series 麥兜「廣州話對普通話」系列 黃巴士
By Yellow Bus Publishing
48 pages per book
Written in Cantonese and Standard Chinese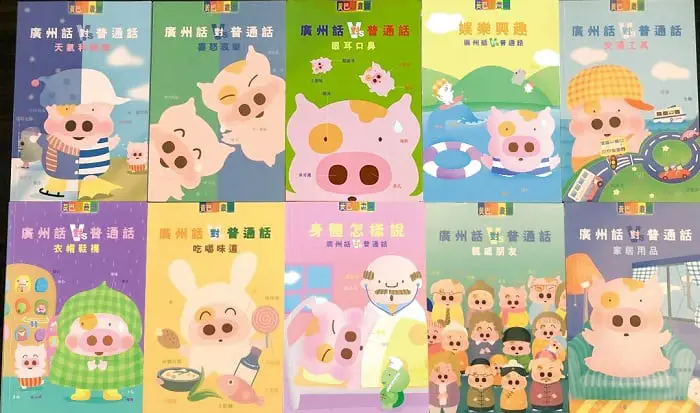 A blast from the past! This is not a new series, but I am sharing them, because they seem to be a best kept secret – I could find scant info on them. There are ten books in all, first published in the early 2000s. I have a couple of them somewhere at home, but not the full set. The books are written for Hong Kong children. As mentioned in the foreword of each book, Cantonese is the mother tongue of Hong Kongers, who however write in what is closer to Mandarin.  As a result, many children might find it hard to grasp the difference between the Cantonese and Mandarin, even for commonly used phrases. (I get phrases mixed up too! )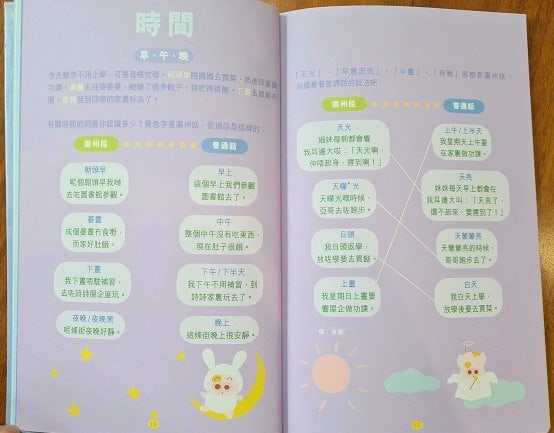 The ten books each cover a variety of topics including body parts, food, emotions, household items, clothing, weather, relatives and entertainment. The books go in depth into the vocabulary and phrases used, comparing Cantonese and Mandarin phrases and sentences. I learnt a lot of vocabulary from these books, as they are not merely the superficial phrases found in many books. There is no Jyutping or English translation, so you do need a certain level of Chinese to be able to read these books.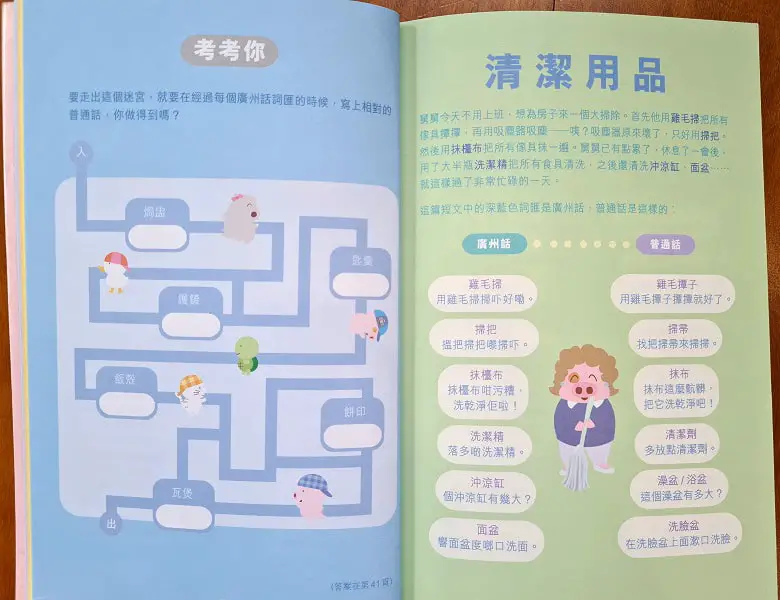 Throughout the book, there are quizzes and puzzles, as well as illustrations and comics featuring Hong Kong's endearing cultural icon McDull and his family.  The interior pages are all of soothing pastel colors which are relaxing to look at, but unfortunately do impact on the readability of some pages. Still, they are a keepsake, and one of my favourite resources for improving my Cantonese and Chinese at the same time.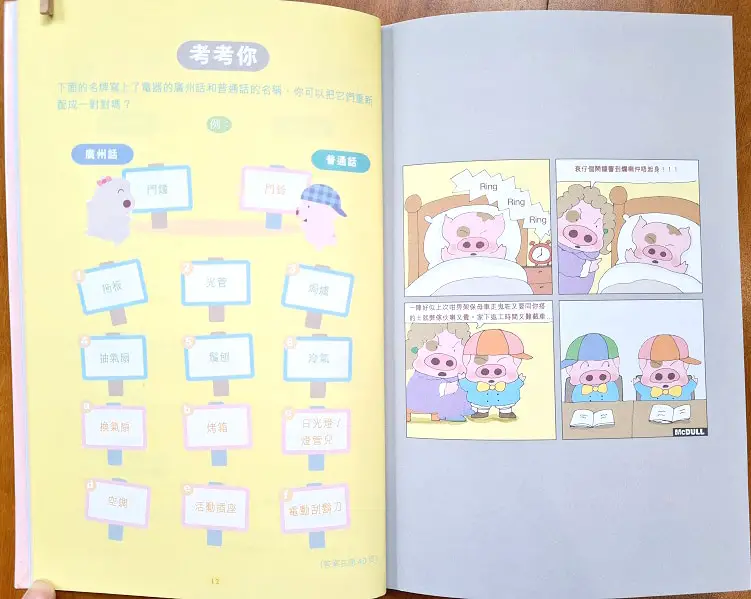 These books were out of print for a long time, but became available again in 2019 at the Hong Kong Book Fair together with a whole bunch of other McDull books. And recently I saw a number of them available on the Yellow Bus online shop for HKD30 each, but does not seem to be available at the (HK) bookstores.  I wish I found the website earlier, as there might have been more books. If you are interested, I recommend getting them soon before they run out. And yes, they mentioned they do ship overseas when I called up to ask. (That option is not available on the website. If you are interested in the overseas option, give them a call during opening hours or send them an email. ).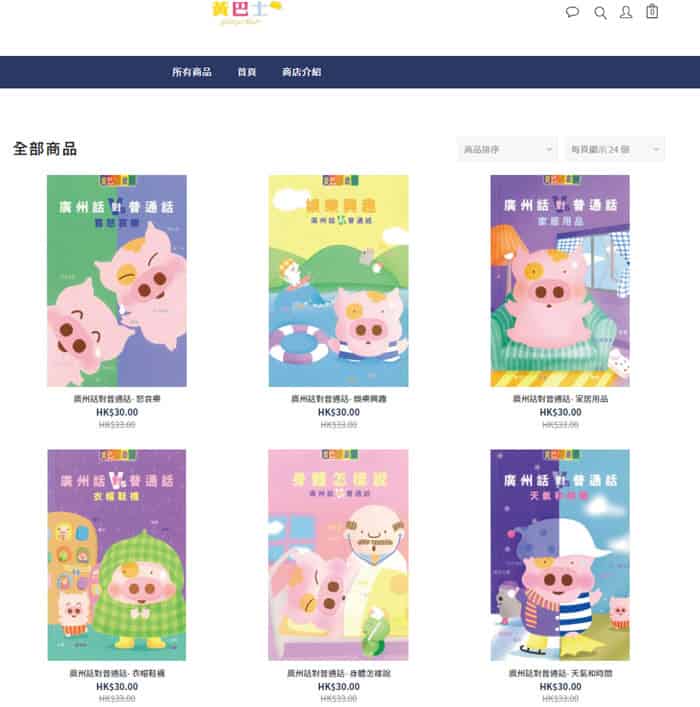 For more information on McDull's Cantonese vs Mandarin/ Chinese series 麥兜「廣州話對普通話」系列 黃巴士, please visit the Yellow Bus online shop.
I hope this eclectic mix of Cantonese books has whetted your appetite for more of them. If you have not had the chance to read a Cantonese book, now is a good time to try. If you have, which is/are your favourite(s)? Mine are The Little Prince in Cantonese and the McDull series.
If you are looking for even more Cantonese books, check out the following posts
You might also enjoy reading: