While researching Cantonese literature to improve my Cantonese, I stumbled upon a book written more than a century ago: Readings In Cantonese Colloquial: Being Selections From Books In The Cantonese Vernacular With Free And Literal Translations Of The Chinese Character And Romanized Spelling by James Dyer Ball (1894).
I had always thought Colloquial Cantonese literature was a recent phenomenon, especially given the debate about it, but I stand corrected. In 1894, this James Dyer Ball clearly found enough colloquial literature to provide excerpts to form a book for "the student of Cantonese".

About the book:
Excerpts are taken from many books rather than a few, so as to expose the reader to "the style of speech of different Chinese speakers" including a mixture of "book language" and "pure colloquial", as well as "give the learner a larger vocabulary". About 80 of the book are translated from English and 20 % of the book are from Chinese sources.
The excerpts are a mixture of religious and secular readings.
The book starts off with easy in the beginning and becomes progressively harder
the simplest colloquial will be found at the beginning of the book, and the mixed style, in which book-language words are more or less employed, towards the end.
Some Common themes that are relevant to this day
Difficulty in finding Colloquial Cantonese materials for the Cantonese student – mainly by foreigners, and not by local native speakers
How some works mix Colloquial words with book style works – and hard for learners to tell the difference
Resistance to romanization of Cantonese
Tips to learn Cantonese include memorization and immersion
Do not be content with reading a passage over once or twice or even a dozen times, but keep on at it till you know it by heart.
The student of Chinese requires constant, unremitting use of the language.
Progressing onto "book-style Cantonese" or formal Cantonese.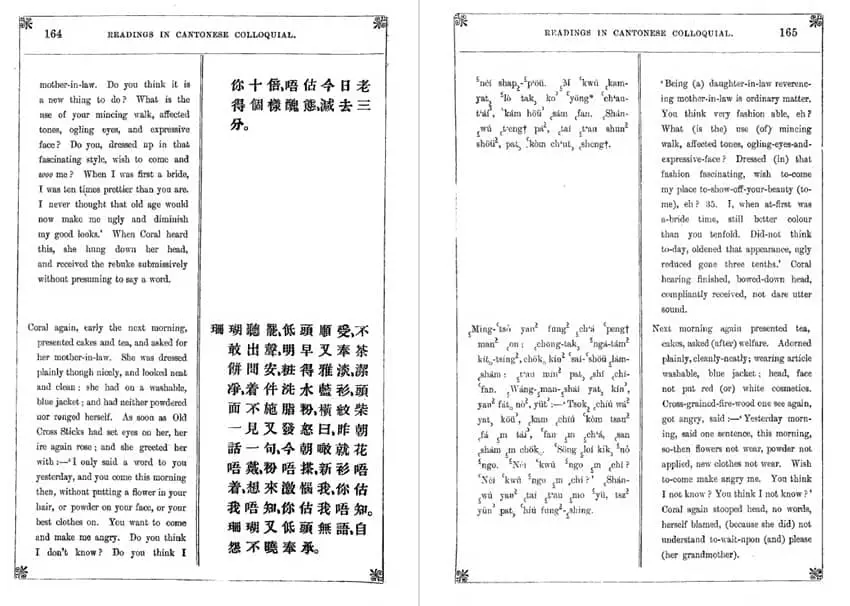 Who is James Dyer Ball
James Dyer Ball (波乃耶)  was a Hong Kong scholar and interpreter. Born in Canton, he learnt Cantonese from infancy. He was considered the most accomplished linguists in Hong Kong Cantonese of his time, and was had contributed greatly to popularizing and furthering Cantonese, including via the development of the system of Cantonese Romanisation.
Book review
I found the book quite interesting and the Cantonese used has not changed too much from over a century ago. No doubt there are lots of new expressions today, but the basics do not seem to have changed much.
I found the Romanisation really hard to decipher, but was OK with the quaint Chinese and English fonts. I was awed to learn that people from over a hundred years ago were studying Cantonese, and some quite successfully too. If they can do it with so little available resources, then I certainly shouldn't be complaining.
As a Christian, I was also really stoked at finding Psalm 23 and the Ten Commandments in Colloquial Cantonese.
Where to find this book:
You can download the book in ePub / PDF/ txt format from  the archives
The book has been reprinted by different publishers a few times, so you can actually buy it in hardcover or paperback from Amazon or Book Depository.
Other Books on Cantonese by James Dyer Ball
(Contains links to the free archived ebooks)
I hope you have enjoyed this bit of Cantonese history. If you are a geek like me, do visit the Internet Archive and search for Cantonese. It is amazing what pops up and to know that what was written over a hundred years ago is still quite relevant today.
You might also be interested in reading: