Lantern Festival or 元宵節 (jyun4 siu1 zit3) falls on the 15th Day of the 1st Month of the Lunar Calendar, and marks the last day of the traditional Chinese New Year celebrations.  It is the first full moon night in the Chinese calendar, marking the return of spring and symbolizing the reunion of family. It is also known as the Chinese Valentine's Day. (not to be confused with Mid-Autumn Festival or another Chinese Valentine's Day 七夕).
Here are some Cantonese resources to help you and your family celebrate:
1. Book Readings
Cantonese Mommy reads the Story of Lantern Festival and explains the origins of our customs –  eating Sweet Glutinous Rice Dumplings 湯圓 and going to see the Lantern Displays 綵燈展
Reading by Michigan Cantonese Storytime
Story About Glutinous Rice Balls (Lantern Festival Custom)
Not a video…. but a story you can read
2. Animations and Cartoons
Learn more about the Legend of Lantern Festival with this cute animation by Kids Land天地兒童.
And one by 采姐姐的故事王國 Lillian's Story Kingdom
3. Video about Lantern Festival in Hong Kong
And one by Uncle Calvin – this has Colloquial Cantonese subtitles (for those studying Cantonese , you can copy and print the Cantonese transcript.)
4. Lantern-making Crafts
Make lanterns with Joy中文學校. Both versions include different riddles for guessing. Free download links within each Facebook post. Worth downloading just for the riddles.
Big eyed Tiger Lantern – link for download within Facebook post.
Make some lanterns with templates by Hing Hing Sone Sone. Includes video instructions.
Sky Lantern template. Click on the link in the Facebook post to request access  to Google Drive file.
5. Vocabulary
Please feel free to download the Printable of Lantern Festival Vocabulary in Cantonese. It consist of 2 pages of the vocabulary and is complete with Jyutping and English translations.
6. Lantern Riddle Guessing 猜燈謎
2022 Lantern Festival Lantern Riddles. Riddles are within the pictures.
Booklet includes the story, some vocabulary and some fun Lantern Riddles  for you to guess (猜燈謎). The video below shows the contents. PDF download link within the Facebook post. (You will need to know some basic Chinese characters to figure out the answers. )
More riddles – guess a (Traditional) Chinese character. If you would like the answers, leave a message below.
Huayu World Online game of riddle guessing . When you make a mistake, you will be prompted to select another answer.  The audio is in Mandarin, but can be muted.
Riddles  for the fluent in Cantonese. Click on the Facebook post to read them all. (Answers provided. Phew!)
7. Lantern Festival Paper Cutting – 元宵剪紙版型
This one below by Cantonese4Parents is only available till 12 February 2022. Comment on her post to receive it. You can also opt to have a page of riddles (with answers).
8. Reading Material
Stories from Huayu World. Please note audio is in Mandarin. Text is in Traditional Chinese. (I click on 刊物列印 for each story.)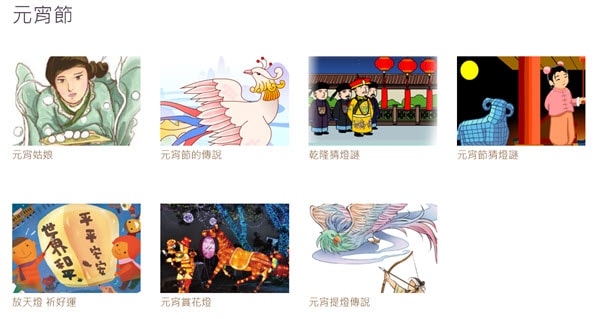 Mini-booklet by Michigan Cantonese Storytime
9. Worksheets
Chinese lesson of how to use  把. The content is about lantern making. (The video of the lantern making is in Mandarin. ). To download, go right to the bottom of the page and click on 【平面版PDF下載/列印】 button.
10. Lantern Festival in Hong Kong
Videos about Glutinous Rice Ball 湯圓 and Lantern Displays 綵燈展 in Hong Kong
Articles about Lantern Festival in Hong Kong
Other Chinese New Year resources :
You might also enjoy reading: