It was last year this time that I discovered Christian Chinese New Year banners and couplets. I saw one in the background of a photo that a friend in Asia had taken at his pastor's home. Unfortunately, his head blocked some of the words. and my intensive google search began. Once I found out the right search term in Chinese 基督春聯, I found lots of images of them. An alternate google term is 福音對聯, which translates to gospel couplet.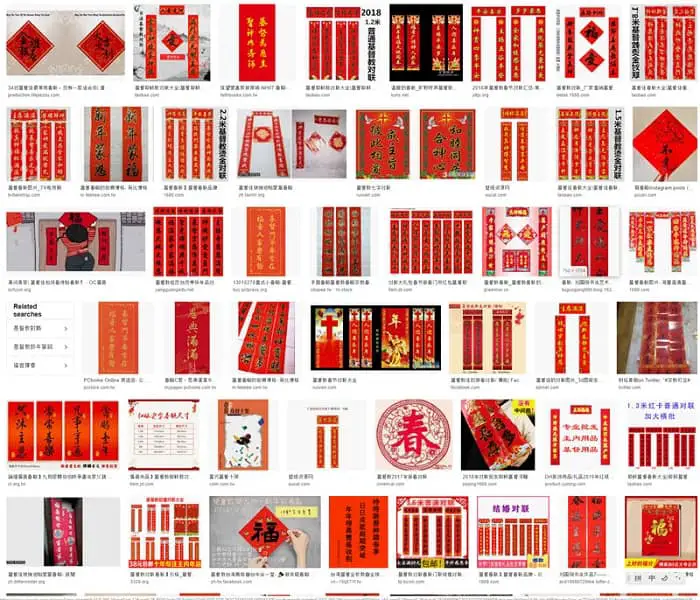 Christian CNY banner sayings
I have compiled some of the more common sayings:
| | | | | |
| --- | --- | --- | --- | --- |
| Traditional Chinese | Jyutping  | English Translation | Simplified Chinese | Pinyin |
| 主賜平安 | zyu2 ci3 ping4 ngon1 | God bestows Peace | 主赐平安 | zhǔ cì píng ān |
| 主恩常在 | zyu2 jan1 soeng4 zoi6 | the grace of God is always here | 主恩常在 | zhǔ ēn cháng zài |
| 凡事謝恩 | faan4 si6 ze6 jan1 | Give thanks in all circumstances | 凡事谢恩 | fán shì xiè ēn |
| 主愛滿家 | zyu2 ngoi3 mun5 gaa1 | God's Love fills the Home | 主爱满家 | zhǔ ài mǎn jiā |
| 福杯滿溢 | fuk1 bui1 mun5 jat6 | My cup overflows (with blessings) | 福杯满溢 | fú bēi mǎn yì |
| 主賜天恩 | zyu2 ci3 tin1 jan1 | God bestows grace | 主赐天恩 | zhǔ cì tiān ēn |
| 永跟隨主 | wing5 gan1 ceoi4 zyu2 | Always follow the Lord | 永跟随主 | yǒng gēn suí zhǔ |
| 以馬內利 | ji5 maa5 noi6 lei6 | Emmanuel | 以马内利 | yǐ mǎ nèi lì |
| 恆久靠主 | hang4 gau2 kaau3 zyu2 | Trust in the Lord forever | 恒久靠主 | héng jiǔ kào zhǔ |
| 主恩滿溢 | zyu2 jan1 mun5 jat6 | Abundance of God's grace | 主恩满溢 | zhǔ ēn mǎn yì |
If you have young children and are looking for simpler sayings, these might suit you:
| | | | | |
| --- | --- | --- | --- | --- |
| Traditional Chinese | Jyutping  | English Translation | Simplified Chinese | Pinyin |
| 愛在我家 | ngoi3 zoi6 ngo5 gaa1 | Love is in my home | 爱在我家 | ài zài wǒ jiā |
| 神真美好 | san4 zan1 mei5 hou2 | God is so good | 神真美好 | shén zhēn měi hǎo |
| 神就是愛 | san4 zau6 si6 ngoi3 | God is Love | 神就是爱 | shén jiù shì ài |
| 彼此相愛 | bei2 ci2 soeng1 ngoi3 | Love One Another | 彼此相爱 | bǐ cǐ xiāng ài |
| 常常喜樂 | soeng4 soeng4 hei2 lok6 | Rejoice Always | 常常喜乐 | cháng cháng xǐ lè |
| 耶穌愛你 | je4 sou1 ngoi3 nei5 | Jesus Loves you | 耶稣爱你 | yē sū ài nǐ |
You can download these sayings as a PDF
Chinese New Year Banners – Printables
If you are looking to print your own Christian Chinese banners, I have created a few versions for you. You can use the basic version  to create banners for decoration around your home. I have also created a stroke order version (Traditional Chinese only) and outline versions for you to practice your calligraphy or for other craft. You can print them on A4 red paper and cut each page vertically into two.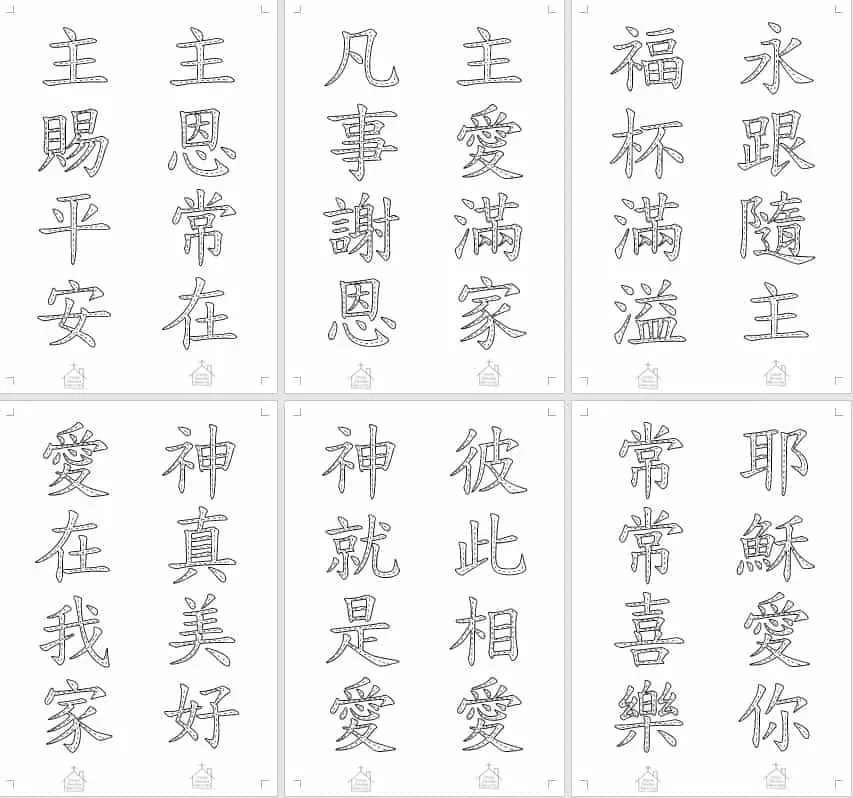 Traditional Chinese Banner Printables for free download
Simplified Chinese Printables for free download
For other Christian Chinese New Year resources, please check out these (external links):
Free Banner Printables from Travel with Jesus
Two cute quirky banners available as PDF (download link in the Facebook post below):
Vertical: 在亂流下平安 (meaning:  Peace in the storm/ turbulence)
Horizontal 穌 I say I love you (This is a play on the word 穌, and means Jesus Loves You / Yes, I say I love you. )
Christian Banner by 台北基督徒七張禮拜堂
You can download the Jpg from the Facebook post. If you scroll right when at the image, there are a few others, but I liked the sentiment of this one best:
新的一年送您五福:
蒙恩信主多幸福
倚靠救主的祝福
常謝主恩多蒙福
信靠主神是真福
祝您新年蒙新福
Banners include these in words  both Traditional and Simplified Chinese –  主恩滿溢 , 神恩無限/神恩无限,  十架之光 , 以馬內利, 恩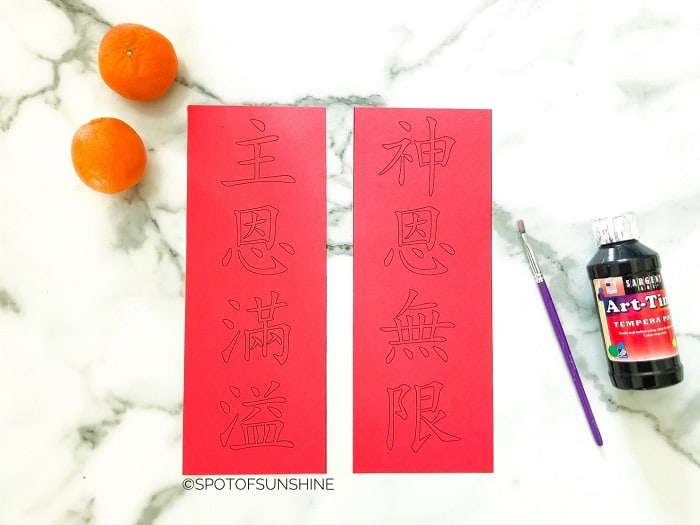 (Photo credit: Spot of Sunshine)
Long list of text, which can be downloaded as a Word Doc from Good Shepherd Chapel Taiwan. You can choose between the number of characters in your couplet – from 4 to 7, and text for horizonal as well as vertical couplets, This is entirely in Chinese.
Another list from Taiwan Bible
Similarities between Chinese New year and Passover
I recall reading about this from another Chinese blogger Spot of Sunshine in her guest post on Baby Devotions.
I went on to read up more and was really amazed at the parallels:
Devourer of children – Nian monster vs the 'first born' plague
Red on doors for protection- banners vs blood
Feast – reunion dinner vs passover meal
Over – 過年/过年 (translates to Over the year) vs Passover
Purification: Spring cleaning vs Jewish practice of ridding one's house of hametz
Spring celebration
This is a great opportunity to discuss about Christianity with others, especially during Chinese New Year. "The sticking of the Chinese banners remind me of how God protected the people in their homes.
I have only touched on some similarities briefly here, but if you would like to learn more about this topic, check out this article Does Chinese New Year parallel the Jewish Passover? by Salt & Light or google for more articles.
Any other Christian Chinese Resources?
Do you know of any other Christian Chinese Resources for Chinese New Year? Please drop a comment below so that we can update our blog and share the good news. Have a Blessed Chinese New Year.
You might also enjoy reading about :