To Christians, Advent(將臨期) is a a beautiful time of the year, a season that many of us Christians observe in the lead up to Christmas, the birth of Jesus, where we prepare our hearts and minds for the coming birth of Jesus at Christmas. This is a time for us to reflect and remember the true meaning of Christmas, and remember the most precious gift of all – Jesus.
Advent usually begins on the fourth Sunday prior to Christmas day, although many Advent calendars start on December 1st.
| | | |
| --- | --- | --- |
| Year | Advent starts on | Advent ends on |
|  2020 | Sunday, November 29, 2020 | Thursday, December 24, 2020 |
|  2021 | Sunday, November 28, 2021 | Friday, December 24, 2021 |
|  2022 | Sunday, November 27, 2022 | Saturday, December 24, 2022 |
|  2023 | Sunday, December 3, 2023 | Sunday, December 24, 2023 |
|  2024 | Sunday, December 1, 2024 | Tuesday, December 24, 2024 |
|  2025 | Sunday, November 30, 2025 | Wednesday, December 24, 2025 |
Those of you who know our family, will know that we usually have our Advent activities and meditation conducted in English, but since last year, we have also incorporated Chinese into our observation of the season. If you are looking to do the same, here are  some resources that are available in Chinese, as well as some ideas how to include Cantonese or Chinese in Advent activities.
Chinese Advent Calendars (

將臨/

降臨日曆)

There are more and more Chinese advent calendars being developed, and suitable for young children. Simply pick one and go with it. Here are some to choose from
1. Knowing Jesus Advent Calendar and Nativity Advent Calendar
Each day reveals more about Jesus as well as a part of the nativity scene, so that the you have the full Nativity Scene by Christmas. The cards tell more about Jesus – he is our Protector, he is the Truth, he is the light, Jesus thinks I am important, Jesus loves. The link to the free printable is in the Facebook post. This is entirely in Traditional Chinese, even the instructions, though I think it is self explanatory.
This is a simple yet meaningful advent calendar, and is easy to do with your child. Each day, you add a chain and learn more about Jesus through his names in English and Chinese, and read the corresponding scripture verse. The link to the free printable is in the Facebook post. This is in Traditional Chinese only.
3. Martin Luther College Jesse Tree Ornaments and Advent Calendar
Every year, Martin Luther College shares their Advent devotions online. For this year (2020), they have Jesse tree ornaments, Children's Bible Stories and a devotion. (all in English) . (The ornaments are pictures)
The  Children's Bible Stories have been translated to Chinese by the 北京福音路德教会 Beijing Evangelical Lutheran Church. (More details in my blogpost.)
I have also created bilingual scripture readings that can be stuck to the back of the ornaments. These are on my blogpost about what we did for Advent in 2020.
There is also a new MLC Advent devotion 2021 –  We Have Seen His Glory  in English and Chinese.
4. A-Bible-Verse-A-Day Advent in Chinese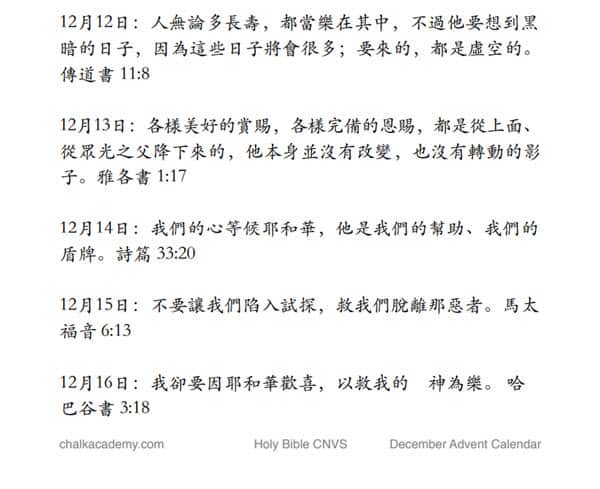 Chalk Academy has a free printable bible verses based on the Preschool Devotion Book on her website.
(She has two DIY versions for an Advent calendar: Rainbow envelopes and Minimalist Drawers. They both link to the same verse printables in Traditional Chinese, Simplified Chinese and English)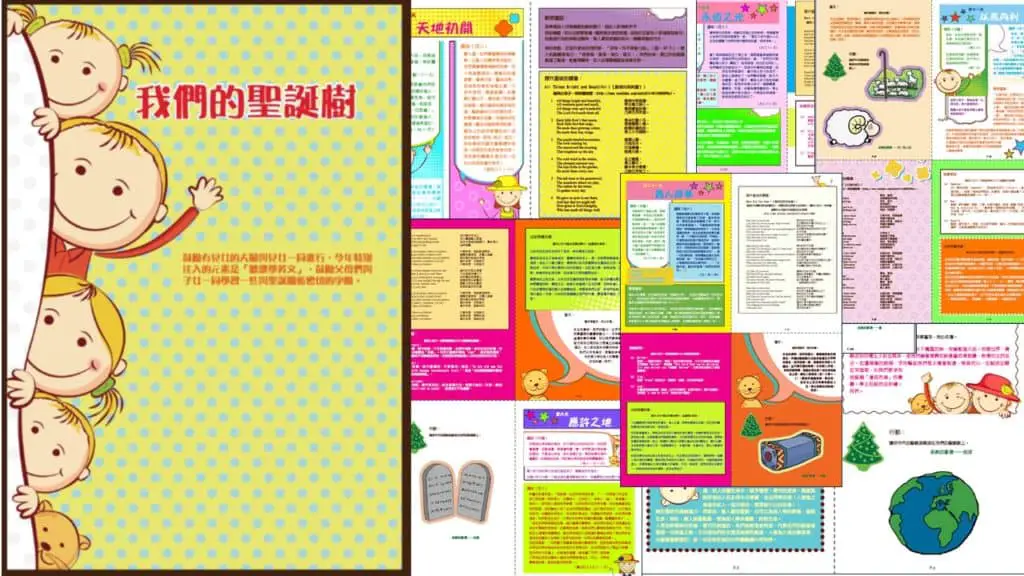 This 109 page full colour booklet is available for free download from the website of Tai Po Wing Kwong Pentecostal Holiness Church (五旬節聖潔會大埔永光堂)  . It includes daily scripture reading, devotion and reflection, song prayer and activity for each of the 25 days. For native Chinese speakers, this is a great activity for parents and kids to do together It is entirely in Traditional Chinese.
(This type of Advent calendar is also considered a Jesse Tree)
This is the first Chinese advent calendar that I have found last year.  I love this. It is a reading plan with a Chinese character and the related scripture it represents (in both English and Chinese), taking you through the life of Christ.  The versions are bilingual and include English and either Traditional Chinese or Simplified Chinese, and with and without pinyin./ zhuyin. The link above will bring you to her website and instructions on how you can purchase this from her Etsy store. I highly recommend this.
7. Christmas Bible Verse Advent Calendar
Christmas Ornaments, with bible verses about the Christmas story, taken from the Gospels. In Traditional Chinese only.
If you are Catholic, these advent calender might suit you. Shared by Father 陳德雄 from Hong Kong on his Facebook page.
This weekly calendar has readings from Luke (路). I also found a previous one here, with readings from Matthew (瑪)
There are also  daily calendars, though not for current year. There are also 2019 and 2018 calendars and he also has colouring sheets.
A simple calendar from Taipei Archdiocesan Catechetical Center. Perform an activity a day, and colour it when completed. Activities range from Singing a hymn, praying for someone in need and helping with housework.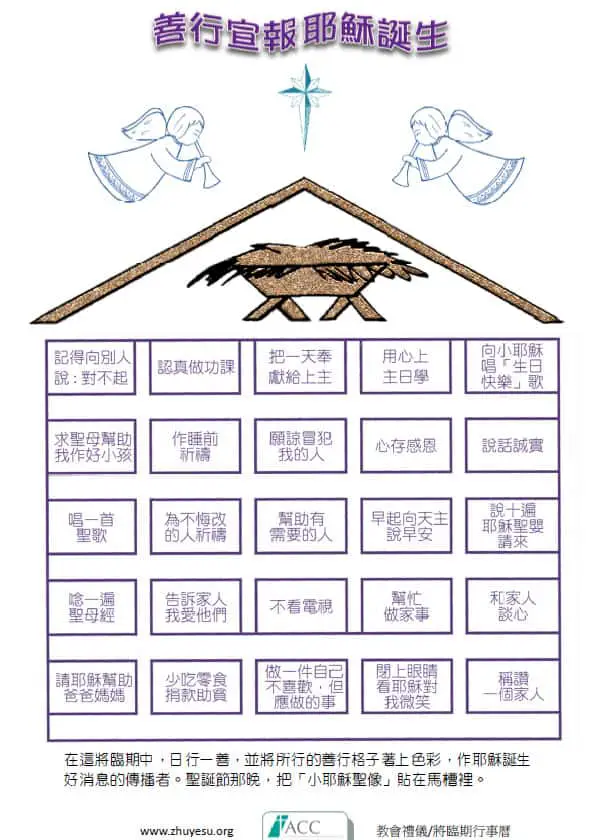 This was created by a Chinese teacher. Includes the Jesus story, vocabulary, and songs. Available in Simplified Chinese with pinyin and English translation. You can open a door a day. The doors cannot be opened in advance (I have tried!) .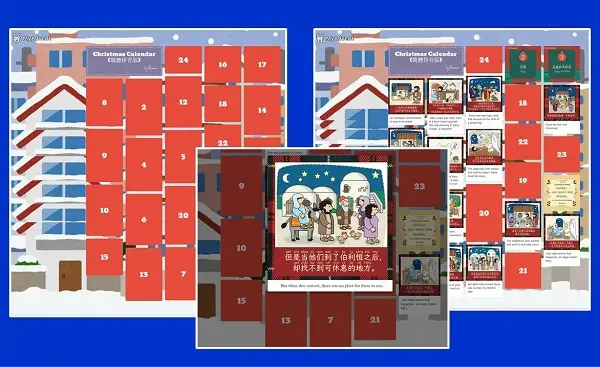 Adapt existing Advent Calendars
You don't have to create something from scratch. If the ones above do not suit your needs, there are plenty of Advent calendars in other languages. If you already have an existing advent calendar, be it scripture cards, or a booklet, just add (at least some) Chinese translation to it. Or choose an advent calendar that has been generously made available to you online by so many – it may be a scripture reading a day, activities, prayer guide, there are plenty of choices! For bible verses, you can translate them with Bible Gateway. (This is also a good way to learn more Chinese Christian terminology, if you are not familiar with them.). Here are some examples: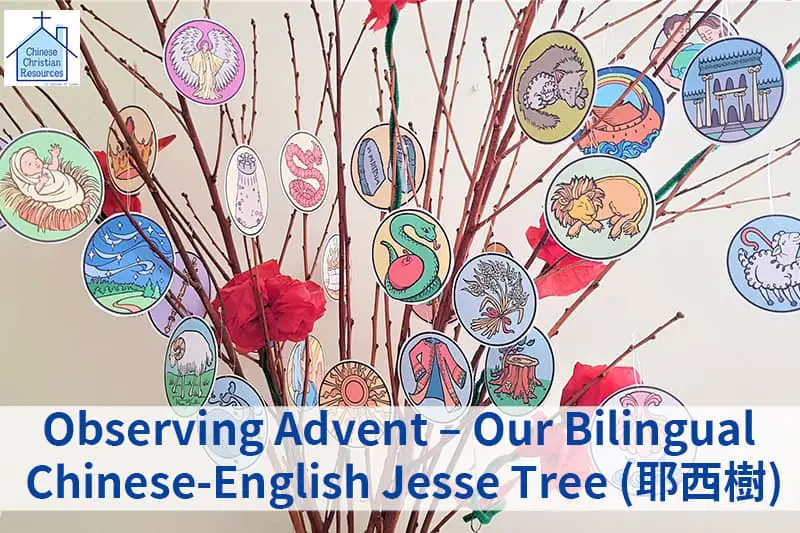 Last year, we had wanted to observe Advent with a Jesse Tree. A Jesse Tree Advent tells the story of God's plan for salvation,  with illustrated ornaments to represent the people, prophesies, and events leading up to the birth of Jesus.
We would like to have a bilingual version, but could not find one online. What we did was to create printables in Chinese to accompany the one that we found.
The free printables, as well as more about the Jesse tree origins and what we did, can be found in this blogpost Observing Advent – Our Bilingual Chinese-English Jesse Tree (耶西樹).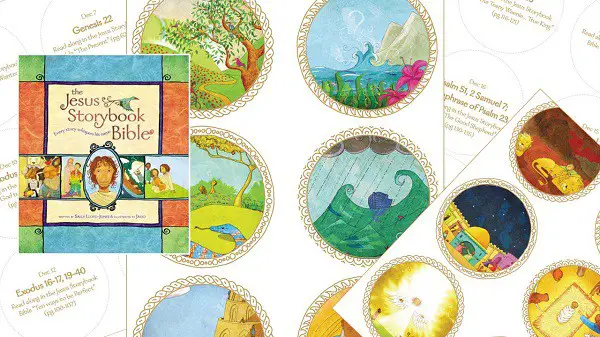 This is another advent calendar that is easy to adapt if you have a Chinese bible and the Chinese version of The Jesus Storybook Bible (故事聖經).
Every year at least for the past few years,  The Jesus Storybook Bible has had a companion advent guide available for free download.
For the 2021 version, there is a beautifully illustrated ornament card for each day, and a bonus ornament this year. Each ornament references the corresponding Scriptures and the story in The Jesus Storybook Bible. Although the Advent guide is in English, you can use the Chinese bible and the Chinese version of The Jesus Storybook Bible (故事聖經) as an accompaniment.
3. Adapt any resource you have e.g. A Scripture Verse a Day Advent / Activity Advent
There are lots of advent calendar bible-verse-a-day in English, and possibly other languages. Choose what suits you – do you want bible reading that is based on the life of Jesus, or the miracle of Christmas, or the story of God? Or would you prefer an Advent calendar that has activity card suggestions or prayer recommendations for each day? Just google and pick the ones that suit your need, and add Chinese to it. If you are not fluent enough, do the bible readings in Chinese.
Pop them in a ready made Advent calendar with little pockets, or drawers, or create an Advent calendar with envelopes, socks or more.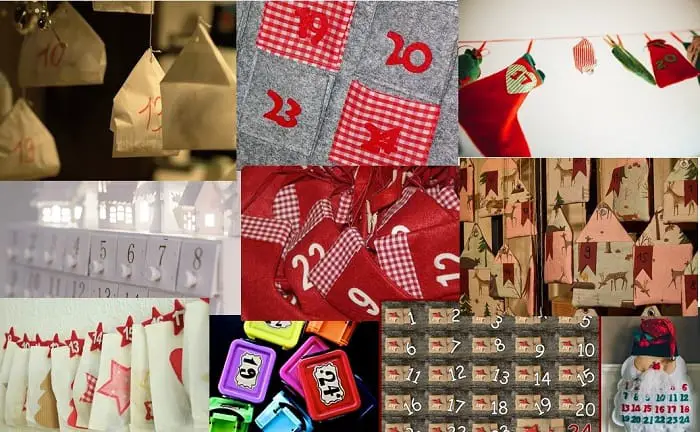 How are you observing Advent this Christmas Season?
Are you having an Advent calendar this year? Please share what you are doing this Advent!
You might also enjoy reading: