I was pleased as punch to discover the Songs4Kids 基督教兒童音樂 website.
This website catalogs and introduces most of the Hong Kong Christian kids' music materials and resources in Hong Kong produced since 1994 and serves as a record database. The website owner actually has a copy of each resource mentioned in the website.
You can search for the resource by production company, year, language, medium, and format in the right column. Whenever possible, he provides websites, lyrics, links to YouTube videos, samplers, and other information that are in the public domain. They include Cantonese, Mandarin, English, Japanese music and more.
I have never realized the sheer scale of music produced in Hong Kong for the Christian kids market. There are really a lot of choices, and you will surely find music that suits you (and I encourage you to buy a CD where possible in support).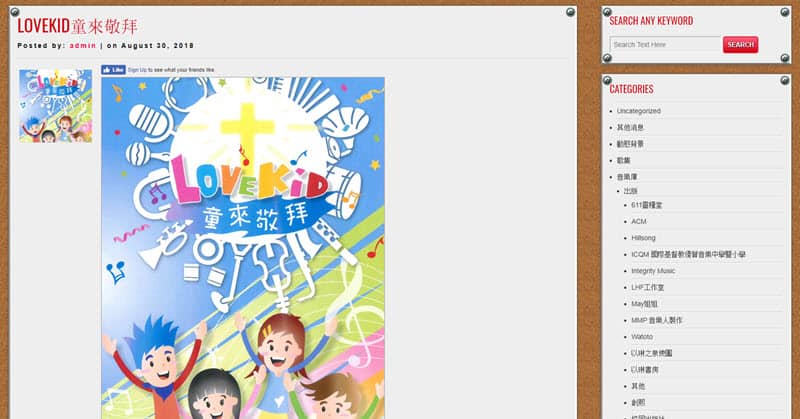 The website is entirely in Chinese, but with the help of Google Translator, it shouldn't be too difficult to navigate.
I recommend checking out the Cantonese music materials by the following producers and organizers:
As part of their ministry, ACM produces modern Christian Cantonese music for both adults and children. Their 齊唱兒歌 (Come let us sing together) series for children come in CDs and DVDs and are  extremely popular.
MMP has only one album, but this is a firm favorite in our household. It comes in both CD and DVD formats.
This album has 2 CDs, comprising of 50 songs with catchy tunes and simple lyrics, which are usually about the gospel truth or bible stories. The songs use a lot of repetition of words, making it very catchy. The songs often include bible verses, making it easy for children to remember the word of God
Their series 祈禱仔唱詩歌 Praying Kids, Praising God are very popular. The CDs come with a music score booklet.
Their songs will appeal even to older kids and adults.
There are no doubt plenty of other Christian music that are not featured in this post, but are also worthy. I had only recommended those that I was familiar with, and in Cantonese. They tend to be the more recent ones, as the older albums are usually not available in stores anymore.
How I use the Songs4Kids website:
To learn about new albums and decided on my next buy – I click on the latest year to find out what has been recently produced, as they are likely to be the ones still available in store. I do like to do my research before I buy. (Although the site does not seem updated as regularly as before)
To see what other songs and albums my favorite music ministries have produced.
To look for lyrics for my favorite songs and to enlarge the font. All the CDs and DVDs I have bought come with a song booklet that has the fonts in very tiny words. I enlarge the fonts in a word document for my kiddo, so as not to strain her eyes (or my eyes)
Sometimes I look for lyrics that sound catchy, and they can prompt some easy bible verses and phrases to teach my kiddo in Cantonese. (We worship predominantly in English)
In the coming weeks, I will blog about Christian Cantonese Kids Songs on YouTube.
You might also enjoy reading about :