If you are of Hong Kong heritage, and are looking to teach your kid reading and writing, then usually what you are learning is Standard Chinese in Traditional Chinese characters. Speaking Cantonese uses a completely different set of vocabulary from Reading and writing. (If you want more information on this, I recommend this blogpost What You Need To Know About Cantonese: the Vernacular and the Formal). (Please note that Standard Chinese  read in Cantonese has many different names, and I have settled for Formal Cantonese to refer to it, differentiating it from written Cantonese which is spoken Cantonese in written form).
In Hong Kong, students learn Traditional Chinese characters in Cantonese without romanization (i.e. no Jyutping, Yale etc). Only when they are learning Mandarin (in Traditional Chinese characters) do they use pinyin. Whereas in Taiwan, students learn Traditional Chinese characters in Mandarin with zhuyin.
Here are a few free resources for learning materials and worksheets for your to teach in Cantonese and Traditional Chinese characters.
A not-for profit Cantonese school in New Zealand has made available lots of worksheets and flashcards with accompanying videos. There are 30 lessons in all. There are other learning materials on the website too and you can read about all that is available here. Included are songs, stories, craft, and lots of videos for learning.
This site has a lot of worksheets, flashcards and more to teach Chinese characters, radicals, vocabulary, reading comprehension and others.
This is my absolute favorite. This is the creation of two Hongkong teachers based overseas, with the aim of providing Cantonese materials to overseas Hongkonger parents to help them teach Cantonese to their children. In the past few months, Little Bean Cantonese has been churning out delightful magazines every two weeks.  Each new addition is announced on their Facebook page. There are approximately 18-20 pages per book, with beautiful rich colour and delightful graphics. I especially love the ones with pictures of Hong Kong and Hong Kong culture/ food – it really brings Hong Kong closer to me. The plan is to create 50 magazines. There are also writing workbooks, and levelled readers.
The magazines are of extremely high quality, and references the Hong Kong Chinese Lexical Lists for Primary Learning  (香港小學學習字詞表 ) and Table of Frequently Used Characters 常用字字形表 Education Bureau of Hong Kong.
For those who find the materials beneficial, and also have the means, I highly recommend supporting them on Patreon. (This is a monthly subscription and you can choose the amount). But otherwise, the materials are always free, as the creators believe that money should not be the threshold of knowledge).
This set of teaching materials, Let's Learn Chinese 學華語向前走,  from Taiwan are specifically for overseas Chinese children. For each of the 12 levels, there are two workbooks that you can download as PDFs. All are in Traditional Chinese. They also come with zhuyin, but you can disregard it if you are not learning Mandarin/ zhuyin.
Taiwanese teacher Joy regularly posts links on her Facebook page to various worksheets, vocabulary mats etc. It is in Traditional Chinese, with zhuyin. Lots of great stuff.
During Covid lockdowns in Hong Kong, Sun Ya Publications made available 5 weeks worth of worksheets (for Chinese and other subjects). The materials are categorized by age groups (3-6, 6-9, and 9 and above). They also have stories available for download.
This is by the Educational Bureau, and are resources for teachers, ranging from Primary to Secondary. Please note it is entirely in Chinese.
For younger children, you can check out specifically 小學中國語文寫作學與教資源套(一)/ Elementary School Chinese Language Writing Learning and Teaching Resource Pack. These are resources for teachers to train children's writing skills. Parents can also follow the instructions in the textbooks and serve as teachers to teach children writing skills! Also included are some worksheets.
There are also Maths Resources in Chinese for Primary school levels – 教學資源 – 小一至小六.
Mamaloveprint is a designer of Kindergarten worksheets, many of which are in Chinese. Some English and Maths worksheets also come with Chinese descriptions, which can help you with related vocabulary.
These are Easy Readers developed by Cindy for her daughter. The series is quite new, and there is one black-and-white booklet file to date, a very cute, and printer friendly book about A6 size closed. (I am a huge fan of printer friendly materials). The early reader is carefully designed based on methodology recommended by Department of Chinese and Bilingual Studies, The Hong Kong Polytechnic University, and other reputable references. Can't wait to see more of the series. On the blog are also links to her many other resources including Cantonese Circle Time, storytelling podcast etc. (Update: To obtain promo code for free printables, you need to subscribe to her newsletter).
Get Set Parents is an online interactive platform mainly for kindergarten and elementary school parents. They have a handful of Chinese resources for free download.
If you subscribe to their mailing list, they email out a series of worksheets every month, covering a few topics including Chinese. You can also surf the website (only  Chinese) and look through the various available resources. (To download, you will need to provide your name and email address. 
Sage 500 words books
If you working with the Sage 500 words books, there are also related worksheets and resources here.
Creating your own worksheets from scratch
If you would like your child to practice their handwriting, you might also wish to create your own worksheets from scratch using handwriting and stroke order fonts
You can download special fonts to create your own worksheets in Word or Powerpoint or many other programs. To learn more about the fonts, and to downlead a ready zip-file, please visit Guavarama's most famous and extremely helpful post Installing Chinese and Zhuyin fonts for Mac. Despite her blog title, the fonts also work on PC.
Creating your own handwriting practice sheets from templates and programs
There are websites that allow you to generate your own worksheets for handwriting practice. I haven't had any need of them, as I have practice books at home. Please note that stroke orders might carry depending on region, and Hong Kong stroke orders might vary from Taiwan's for some characters.
香港小學習字表 – Available on the website (or you can download the app). Options of grid size, grid lines, and orientation. Up to 10 characters per sheet. If you surf around the website/ app, you will also discover lots of useful tools such as dictionaries, and articles (in Traditional Chinese).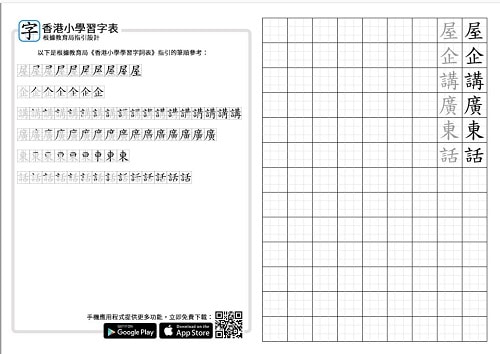 Education University of Hong Kong 縱橫習字簿 – this has Hong Kong stroke orders. Option of word size, grid, number of lines etc. You can also include a maxim.
Chinese Converter Create Your Own Chinese Character Practise Writing Sheets –  options of character orientation, paper orientation, Jyutping, spacing, character size, colour, and more.  No stroke order.
Purple Culture - you can create basic worksheets with the free account. No stroke orders.
MOE Tawian – has stroke order (Taiwan), and character orientation is vertical.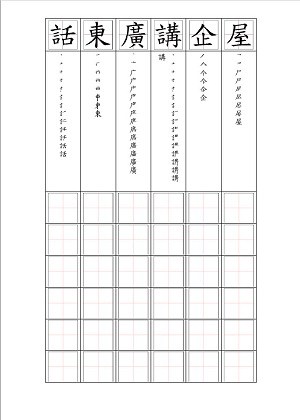 Penghu County Calligraphy Writing Teaching Web – this show Chinese handwriting. Worksheets are standardized.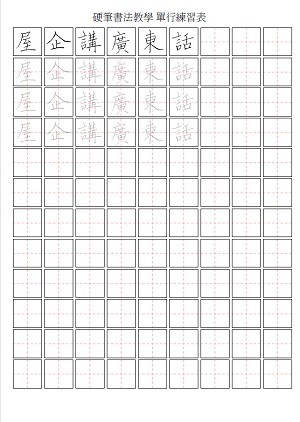 New Taipei City Educational Department 教育局承辦科室 – this generates a word document that has (Taiwan) stroke order and vertical character orientation

Printables for younger kids
If you have younger children who are not ready to read and write yet, you can look for resources on these blogs. They include Traditional Chinese, but not strictly for Cantonese:
Other Free Online Cantonese Resources for Kids:
Anything I Missed?
If you have any resources that you know of, please drop a comment on this post and let me know, so that I can update this post with more resources and more people can enjoy them.
You might also enjoy reading: