Many people are over the world are now looking for COVID-19 resources in English and other languages that they can share with their children, as the impact of the virus spreads around the world. I have compiled a list of resources in English and various other languages, and I hope they can be of help to you. (I'm currently blogging with my kid at home, so please excuse any mistakes. ). I will be adding to the list as I find more resources. If you know of any other resources, please send them my way.
For those looking for Chinese and Cantonese resources, please click here.
Disclaimer: These resources are sourced from the internet, and do not constitute medical advice. Please use your own discretion, and please always refer to your health authorities for the latest updates. 
Here are various ebooks
This is the first one I have come across that is written outside of Asia, and is useful because it is more relevant to those living outside of Asia and addresses specific issues in US (that might also be applicable to those living in other countries e.g. what does it mean if someone is wearing a mask? (It does not mean they are sick), and that the virus affects everyone (hopefully this will help to educate people and curb racism).
Other language versions include Spanish, Lithuanian, Russian and can be found here.
Info comic on how a Coronavirus spreads, and the precautions you can take. This is the most translated resource that I have seen so far:
Translations (via semi open-source) into many languages can be found on this page
The languages include:
Asian languages: Chinese, English, Vietnamese, Korean, Bahasa Indonesian, Arabic, Tagalog, Urdu, Burmese, Hindi, Bahasa Malaysian, Thai, Farsi and more
European languages: Spanish, Portuguese, Turkish, French, Russian, Romanian, Italian, German, Swedish and more
A 12 page booklet written for kids , in various languages including English,  Chinese, Spanish, Portuguese, French, Polish, Bahasa and more here.
It is written for 5 to 9 year olds, and is/ will be available in many languages including English and Chinese. Language editions will be shared by specific publishers in different countries.
A comic by Elise Grave, an author and illustrator from Montreal. The comic is available in English and French
By Dr. Anita Sircar, MD, an infectious disease specialist in Torrance, California.
Available in English | Vietnamese | Hebrew | Arabic | Spanish | Finnish | Ukrainian | Portuguese | Farsi | Other translations by netizens pending.
In this bilingual story/ infographics from Hong Kong, Dumo, an adorable cartoon cheetah, shares about the novel coronovirus and the precautions to take. Dumo is the creation of Dr Lucci Lugee Liyeung, an orthopedic surgeon and illustrator who wants to increase health awareness in children through her art. Her Facebook post includes a link to download the Chinese PDF for free. Do have a look at the other beautiful illustrations on the Facebook page.
For PDF download, visit the respective Facebook posts: Traditional Chinese- English | Vietnamese-English | Indonesian-English |  Korean-English | Japanese-English
And if you prefer a colouring book version, the PDF link to download is within the Facebook post.
Picture book with beautiful illustrations by Karen Aruba, a Hong Kong Illustrator. Available as a PDF in English and Chinese here. 
A cute story by Taiwanese Illustrator MIIA*Mia about the importance of wearing masks. Language versions available include English, Chinese and Japanese

20-page bilingual Chinese English story explaining about the novel coronavirus, how it spreads, why a child might be kept at home, and other hygiene measures. I love the whimsical drawings and the ink friendly book that can also double up as a colouring book should you choose to print it. PDF download links: Traditional Chinese/ English |  Simplified Chinese/ English.
Story credits: 微信公眾號A卡蘇(id:akashare)發布的中英雙語繪本《為什麼不能出門? 》
This is a book written in Singapore, and is in bilingual English-Chinese. Requires an email address to download the PDF here.
The sequel, The Language of Kindness, talks about how the virus has brought out the best and worst in people, the hoarding of masks and sanitizes, to simple acts of kindness and the everyday heroes. A reminder to us to be kind during this time.
There are also activity sheets in English.
Another book written in Singapore, and also in in bilingual English-Chinese. You can download the PDF here.
This is a series of comics illustrations on the website in English.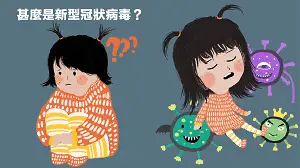 A Picture Book by the Beijing Institute of Fashion Design, and has been translated into many languages including Traditional Chinese, English, Russian, Korean and more. You can download the files (for free) if you use WeChat to scan the QR code in this article. (Disclaimer: I haven't figured out exactly how to do it, as I am not familiar with wechat.)
PDF links for download in the Facebook post below. Versions include Chinese, Japanese, Tagalog, French, German and Spanish. For more Christian resources on COVID-19, please visit Covid-19 : Chinese-English Christian Resources for Families
This is a  A Coronavirus Social Story by Carol Gray, the originator of social stories, and will be helpful for children who need more details of the virus and what it entails.
Written by a Mom of three, Christine Borst.  The book has also been translated into Spanish (PDF), French (PDF), Turkish (PDF) and Farsi (video) . All versions available on her blog
A book for children about coronavirus that aims to give information without fear. Free PDF (English only) here.
A free e-book by A Kids Book About, a publishing company that makes kids books on many challenging, empowering, and important topics that kids experience every day such as racism, failure, feminism, gratitude. Ebook is available in PDF and epub format. It was written by an academic researcher at the University of Wisconsin Madison who studies infectious disease. he book includes basic facts about the virus, the importance of washing your hands, not touching your face and practicing social distancing. It is geared to children ages 5 to 9-years-old and is intended to be read with a parent.
This book was a project developed by the Inter-Agency Standing Committee Reference Group on Mental Health and Psychosocial Support in Emergency Settings (IASC MHPSS RG)  based on a a global survey distributed in Arabic, English, Italian, French and Spanish to assess children's mental health and psychosocial needs during the COVID-19 outbreak as well as feedback from children, parents and caregivers. The 26-page PDF book in many languages can be downloaded here.
Available in many languages: English,  Chinese, French, Greek, Norwegian, Russian, Indonesian, Dutch, Danish, Italian. PDF books can be downloaded here.
Written by by Francesca Cavallo, a New York Times best-selling author known for co-creating the "Goodnight Stories for Rebel Girls" series. This book is about the story of Dr Li Wenliang who sounded the alarm on the virus in China before dying from it himself. It is available in English, Italian, Arabic, Spanish, Catalan,  French, German, Latvian, Polish,  Estonian, Portuguese, Greek, Dutch and Turkish. Translations into more languages are in progress.
ASL (American Sign Language users) Videos about COVID-19
Videos created by Partners in Deaf Health, Inc aimed at promoting an understanding of the health needs of culturally Deaf people, to create parity between the Deaf and general population across the nation. There are a number of videos on their Facebook page addressing different aspects of Covid-19.
How to Talk to your kids about COVID-19
Here are some useful articles I found about talking to your kids about the Covid-19. I will be expanding on this section in the future.
Please stay safe everyone, and take precautions.