Happy Multicultural Children's Book Day 2022! I am honoured to be selected as a book reviewer for Multicultural Children's Book Day, and have been gifted a few digital books in exchange for my honest review, to promote book diversity on children's bookshelves. Here's my third review.
Multicultural Children's Book Day Book Review #3
Celebrating Chinese New Year– Holidays, Traditions and Activities A Holiday Book for Kids by Eugenia Chu
With Chinese New Year being the biggest festival for Chinese around the world, there can never be enough books about this festival. Hence, it was a pleasure to receive a review copy of Celebrating Chinese New Year – Holidays, Traditions and Activities A Holiday Book for Kids from Eugenia Chu.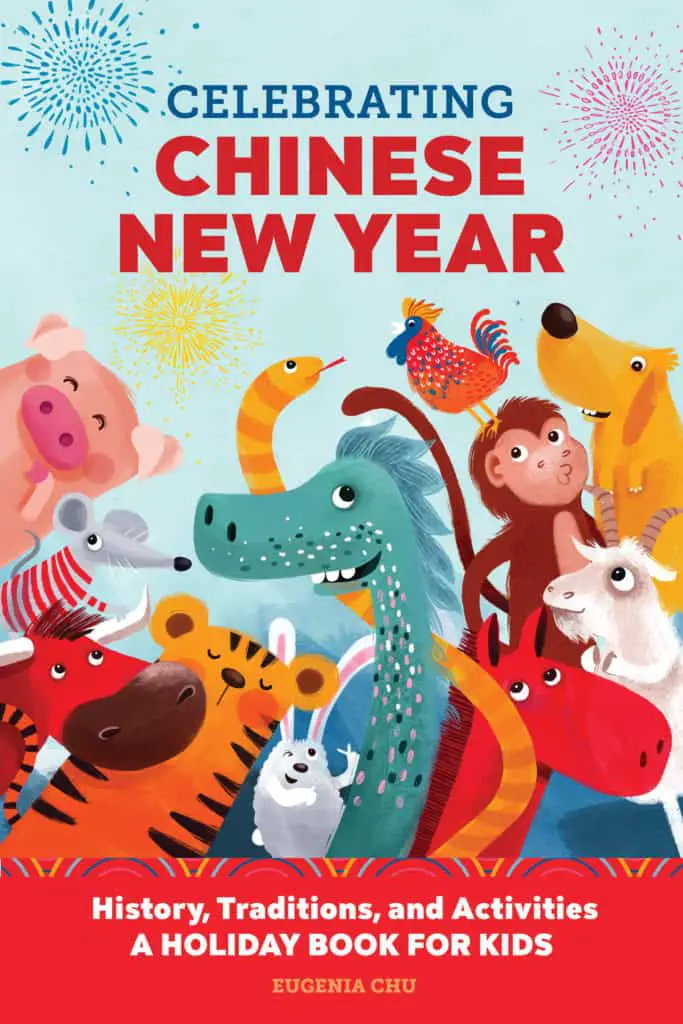 The chapter book introduces this all-important festival with lots of facts and bright cheery illustrations. Descriptions of many facets of the holidays are laid out in clear, easy to understand language, and suitable for its intended audience of 6 to 9 years old.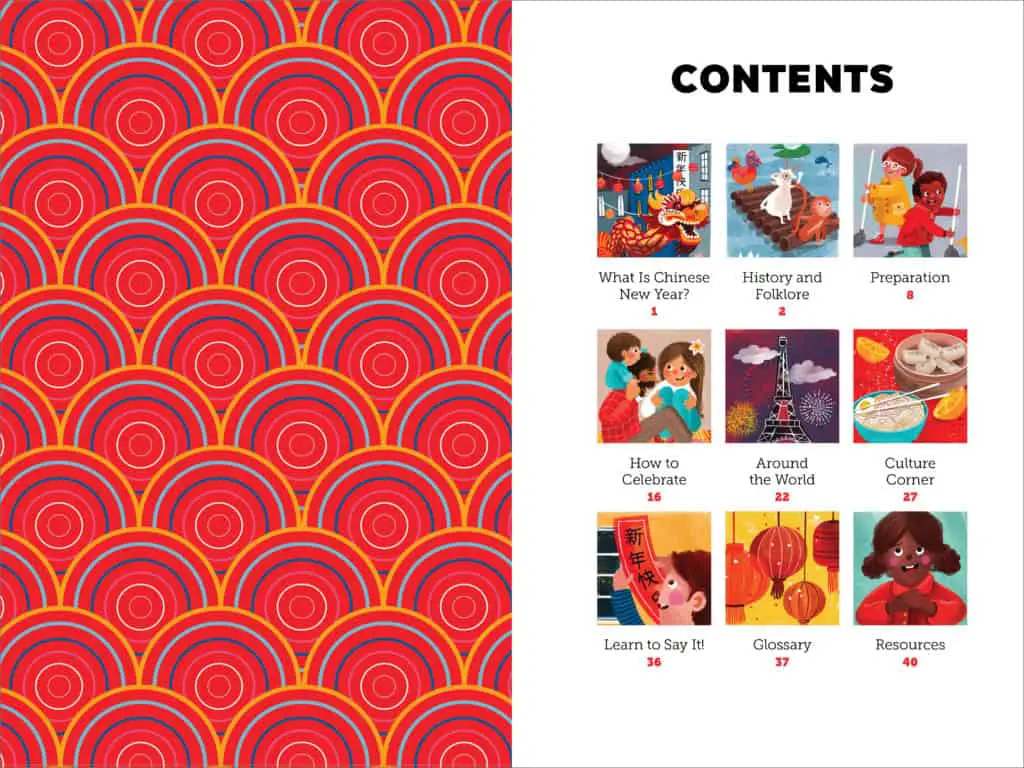 The contents include:
What is Chinese New Year
History and Folklore
Preparation
How to celebrate
Around the World
Culture Corner
Learn to Say It
Glossary
Resources
The book is part of a series about Holidays which include Celebrating Groundhog Day, Celebrating St Patrick's Day, Celebrating Valentine's Day and Celebrating Dia de Los Muertos (Day of the Dead). The books follow a similar format – a short chapter book with colourful illustrations and clear prose.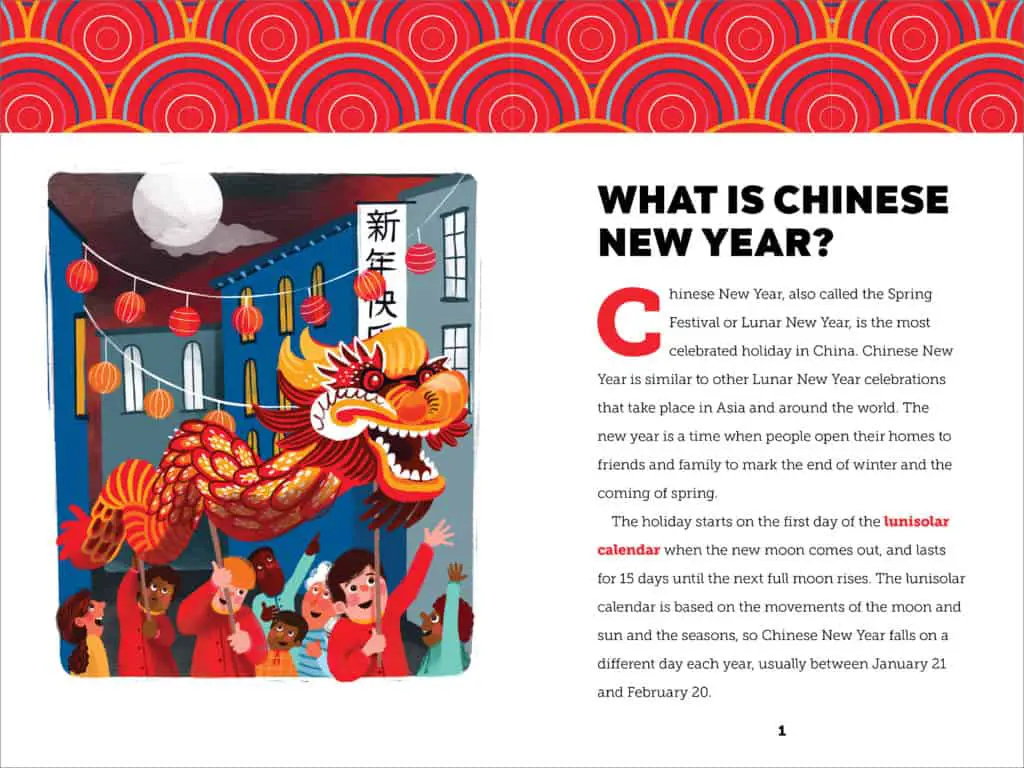 Celebrating Chinese New Year is engaging and informative, and will help children of diverse backgrounds understand about Chinese New Year, and the significance of this holiday. It is jam-packed with lots of information, detailing the many traditions and customs of Chinese New Year. It also includes instructions for hands-on activities such as making dumplings, and craft, inspiring kids to explore more about the festival. It is a fun way to expand on their multi-cultural experiences and teach them to appreciate the rich diversity of our communities.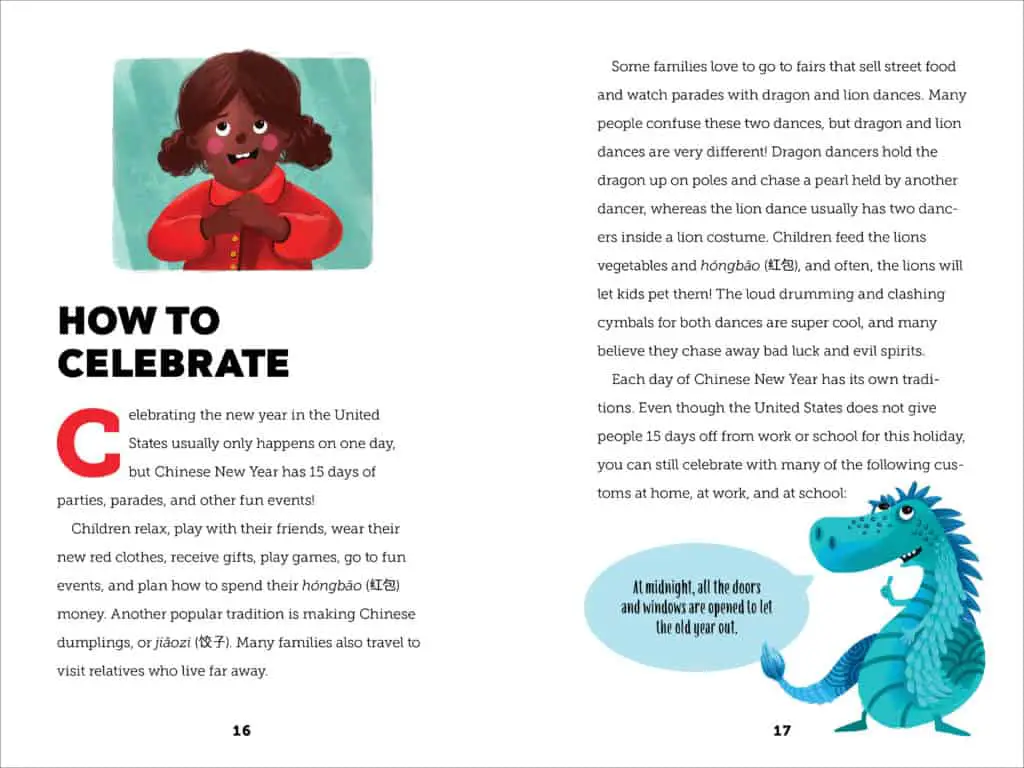 The book is written for a U.S. audience, and I especially like how inclusive the playful illustrations are, boldly featuring children of diverse backgrounds happily celebrating Chinese New Year in multicultural U.S..  The red packets illustrated contain U.S. notes, reinforcing that it is not just in Asia that Chinese New Year is celebrated, but that it is also relevant in the Western world. There are also brief snippets of information about how the festival is celebrated in Australia and France, which made me really happy to see my country included. (I know I am biased).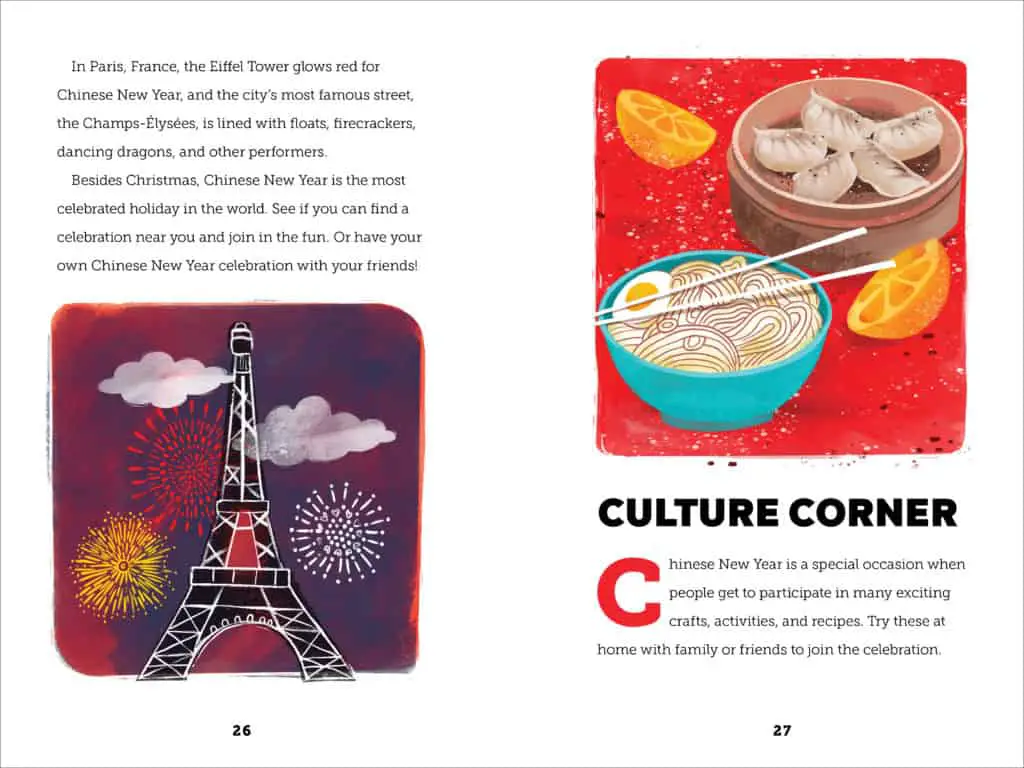 The glossary at the back of the book contains with words in Simplified Chinese and pinyin, for learning phrases in Mandarin. They include Chinese New Year key vocabulary and the zodiac animals. The Chinese phrases are also peppered throughout the book, helping kids who are interested in Mandarin speak a few phrases.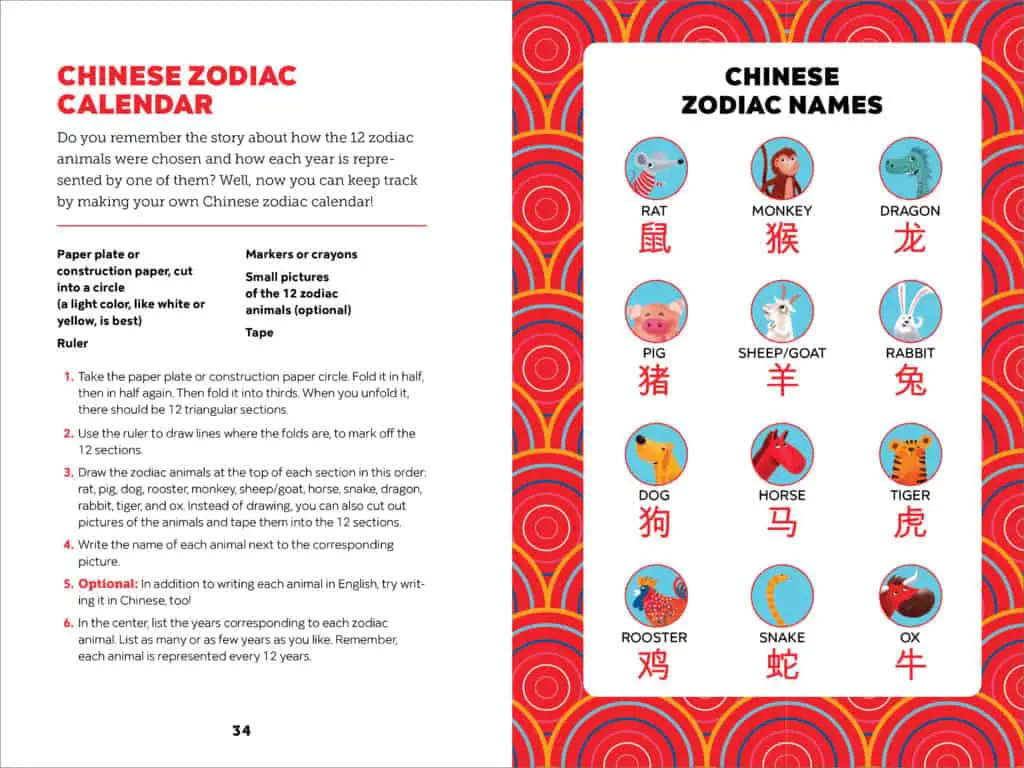 Overall, I do like this cheerful book. However, I would be remiss in not mentioning that even among the Chinese, regional customs and traditions of Chinese New Year vary widely, so some of these customs are not something that I am personally familiar with. For example, these are not present in Cantonese culture –  the eating of dumplings and the relaxing on Day 1. Eating of dumplings during Chinese New Year is Northern China tradition, though it has become more common now throughout the world. For us, there are dishes that are specific to Hong Kong/ Cantonese culture including 盤菜Poon Choy and 年糕,蘿蔔糕, but dumplings are still not common. I am not familiar with the custom of relaxing on the first day. In Hong Kong, the first day is "a day for seeing relatives, offering gifts and visiting ancestors' graves. Dinner typically follows." And of course in Australia, it is often a work day, so no rest and relaxing.
It was interesting reading about these different customs. But if you have specific traditions, I would recommend supplementing with your own narratives, whether orally, via print or even videos. (We have tons of books on Chinese Festivals, from Hong Kong as well as from other regions, and each  lend a different perspective to the holidays). I confess that I had hoped to read about 人日, which is everyone's birthday, but in a book of 50 pages, not everything can be included. What's the solution? Read lots of lots of Chinese New Year and Lunar New Year books to appreciate the diversity of Chinese New year! (Wink!).
For more information about this book, please visit the author's website.
Pictures courtesy of Eugenia Chu. 
Other Chinese New Year resources :
You might also enjoy reading: