If you are looking for Christmas resources for kids that teach the true meaning of Christmas – the birth of our Savior Jesus Christ, here's a roundup of Christian Christmas Chinese resources available for free on the internet that I have found. (Will continue to update as I find them.)
Activities and Crafts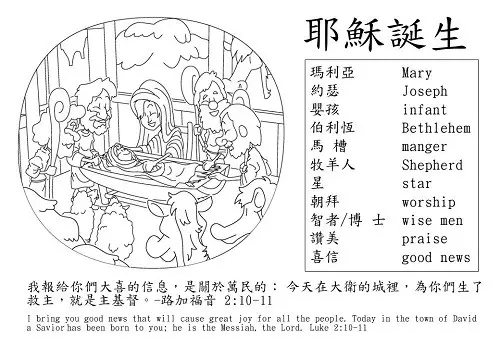 Faith-based Christmas crafts by Chalk Academy – includes Washi Tape Crosses and Jesus is King Crown Craft and Coloring Pages (free printable)
Stories and Ebooks
Lots of Christmas Stories and Videos for Children from Free Kids Stories
Link to English resources compilation: Christmas Stories and Videos for Children
Link to Traditional Chinese resources compilation: 聖誕節孩子們的故事和視頻
Link to Simplified Chinese resources compilation: 儿童的圣诞故事和漫画
Lots of kids ebooks (some in PDF, epub and kindle format) and other materials including flashcards, tracts.
Resources are sorted  by age groups  1-4, 5-7, 8 – 11 yo.
Also links to some Christmas videos (external links).
Available in various other languages. I highly recommend checking out this site for their numerous Christian resources for kids that can be used throughout the year.
Available in 245 languages including Traditional Chinese, Simplified Chinese and English –
You can choose to download the PDFs in various formats – colour, black and white (colouring) , one per page, 6 per page, as a tract. For English, there is audio as well. Story Number 36 is  The Birth of Jesus | 耶穌的誕生 | 耶稣的诞生
YouTube Videos
For Superbook fans, you can watch the story of Christmas in Cantonese
and Mandarin
Advent resources in Chinese
Other Chinese Christian resources for Christmas:
Anything to recommend?
If you know of any other Chinese Christian resource that you would recommend, please let me know. Would love to include it so that it can reach more people.
You might also enjoy reading: